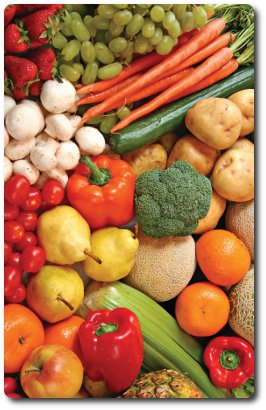 Here is the story of Bertha, the figure I use often in my books because I think that her weight loss story is extraordinary and can inspire many of my readers.
Bertha is a 55-year old woman who became obese during the time of a severe personal famine. At some point of her life she was robbed and lost everything she had, including her last dollar in the pocket. During that time all she had was some flour, so she was lucky enough to bake her own bread what really saved her life.
Unfortunately that much bread eaten over months – as at it later turned out, over years – was not received well by her body and as a perfectly slim person she began to gain weight very fast. Although she only had 4 slices of bread with nothing on it per day, her weight literally exploded. Within only two months she had two dress sizes more, although she was starving.
By the way, this is proof that you can eat very little, but if you eat the wrong food – food that is wrong for your body – you can gain tremendous amounts of weight. Bread may not have had such a terrible effect on another person, but Bertha is a blood type 0, and for her bread was really the worst choice of all. Of course, in that situation it was still life saving for her and better than nothing.
To make a long story short, for years she remained in poverty and was forced to eat poorly what got her obese within only a few years. Twice a year she needed a new dress size. All that time Bertha knew that eating healthy would be the solution for her dilemma. She knew perfectly well how she could lose that extra fat, but she didn't have the means to afford a healthy lifestyle.
For the coming years she wished, and hoped, and tried, and did everything within her limited means to change the situation on several levels. She visualized a fertile garden full of healthy vegetables, yet nothing happened. That situation lasted 18 years.
There were many situations when Bertha wanted to give up and accept what seemed to be the obvious.
A few months ago Bertha hit a new low point. She had to move because she couldn't sleep where she lived but hardly had the energy to look for a new place, let alone to pack and move. That was a moment when she once again reflected on her life. She realized that at the current situation she had pretty much just one way to go: down. She felt trapped and had no idea what else she could do to change her terrible situation.
She was desperate for more energy and realized that gigantic storage of "fuel" in her body that – once released and properly burned – could give her a tremendous energy boost. That was the moment when Bertha made such a strong decision to do whatever it takes to burn that extra fat and change her life completely. She swore that she would do whatever was necessary to get her slim…and she meant it. For her it was now or never. 
That was the magic moment for Bertha, and to this day she can't believe how much has changed since.
Suddenly, a friend of her decided to give her $200 every month for healthy food until she would be in a better situation.
Soon after she found the apartment of her dreams that came with a half-an-acre backyard. With the money from her friend she immediately purchased organic seeds and started her own garden with vegetables, greens, herbs, berries and fruits. Only a few months later she can now harvest all kinds of salads, herbs, peas, and soon she will pick her first zucchini. That little yard is everything she needs to feed her almost all year round with the best and healthiest organic food once things begin to grow.
To fully understand the miracle, you need to know that Bertha lives in a country where most people are forced to rent apartments because there is not much space for all the people. Having your own yard is usually only possible for those with more money. Because there is so little land in her country, land is a luxury only the rich and wealthy can afford. And of course we know that Bertha is far from being rich, yet in a way she is wealthy now with her garden that provides her with everything she needs in the best possible quality without needing much money.
Since she moved she sleeps much better what gives her more energy. The daily work in the garden builds muscles and she is outdoors several hours every day, enjoying fresh air.
All this happened only within a few months where one homerun followed the next. From the hind side – and knowing how Bertha was living for 18 years before that – this is a miracle. She can hardly believe it, and everybody around her can hardly believe it.
She is finally eating more and healthier. She sleeps more. Her exercise is working in the yard every day. She is quickly moving toward living a healthy lifestyle.
And here is the best news.
Drum rolls please…..
Since then Bertha has lost a whopping 19kg/41lbs.
Remember, she is eating more, she is sleeping more, and she is enjoying her backyard and the outdoors. That's pretty much everything she has changed. No more starving, no counting calories, no restrictions, no puffing and huffing at the gym…
This is the MAGIC of a strong intention. All it takes is a firm decision.
This is a vital part of everybody's weight loss success. Without that you lack the foundation for your success…and this step has to be taken at the beginning. Once you have that, it will literally carry you through the whole process; and what once was hard and difficult becomes now easy and effortless.
"Until one is committed, there is hesitancy, the chance to draw back. Concerning all acts of initiative (and creation), there is one elementary truth, the ignorance of which kills countless ideas and splendid plans: that the moment one definitely commits oneself, then Providence moves too. All sorts of things occur to help one that would never otherwise have occurred. A whole stream of events issues from the decision, raising in one's favor all manner of unforeseen incidents and meetings and material assistance, which no man could have dreamed would have come his way. Whatever you can do, or dream you can do, begin it. Boldness has genius, power, and magic in it. Begin it now." — William H. Murray
In my 30-Day Triple Power Weight Loss Challenge: Habits the participants learn to make such a firm decision and to feed their intention at the beginning of the program. Then, within 30 days we eliminate as many inner and outer obstacles as possible, change bad, fattening habits and learn new and healthy ones. For those with a strong determination these 30 days are everything they'll ever need to turn their weight issues around forever. If you want to learn more, please check out this site: http://www.angelabuhri.com/howtoeliminatefatteninghabits/