When it comes to weight loss, there are three things over which we really have control in life. One is what we think, one is what we eat, and the third one is how we move and exercise. And it all begins with your attitude. If your life is set up in a way that doesn't allow you that freedom – provided you're an adult – then you're in bigger trouble than you may think.
"Attitude is the mind's paintbrush, it can color anything." –Dr. Susan Smith Jones
We all like to think that our thoughts are just happening without us. When we eat, we either eat what our sweet tooth, the media, our life circumstances, or the time of our lunch breaks dictate. And the exercise part is being dictated by time and excuses…we either don't have time or use that as an excuse.
But the fact is – and there will come a time in your life when you will painfully realize that we and only we are in charge of our thoughts, the food we eat and what priority our health has in life.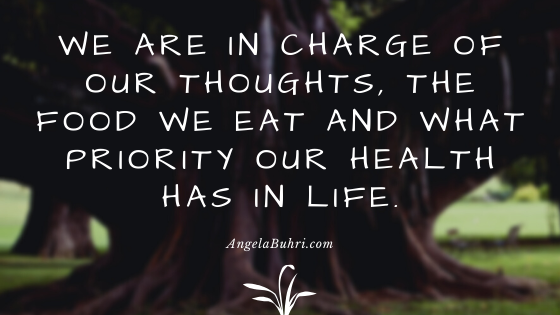 If you are a spiritual person, please make the following visualization. Imagine that you have just gone through death, and now you are standing face to face in front of God. Imagine that he asks you how you were thinking about his gift, your body, throughout your life and you would say, "Well, dear God, I couldn't really decide what to think, my head just kept thinking without my interference." Do you really think that God would respond, "Poor thing, you were so burdened with a disobedient brain. Of course, then it was all your brain's fault and not yours."
God's next question then is, "Now tell me, dear, how have you been taking care of that gift of mine, your body? Did you feed it with the best food, and did you move it regularly as it needed to be moved?" And you would answer, "Well, you see, dear God, the situation is this; I was so busy with my job that I could only eat microwaved food, and there was simply no time to exercise. When I came home from work, I was too tired to go out for a walk." And then, of course, you would expect God to say, "Oh dear me, you were really burdened, and I fully understand that you simply could not eat healthily and not move your body as it was supposed to be your duty."
Or would God say something like, "Well, my lovely daughter; I gave you a brain to think; I gave you a heart that connected you to me what gave you instant access to me at any second of the day whenever you wanted; I gave you a body to be my agent in your city, and I gave you the freedom of choice so that you could learn by making mistakes. But you didn't use my gifts well and gave your power away to bad habits, other people, circumstances, and excuses. You didn't pass this test, and you will have to go back and do it better next time."
So tell me, which scenario makes more sense and is more likeable?
We are in charge of our thinking, our emotions, the words we say and the actions we take.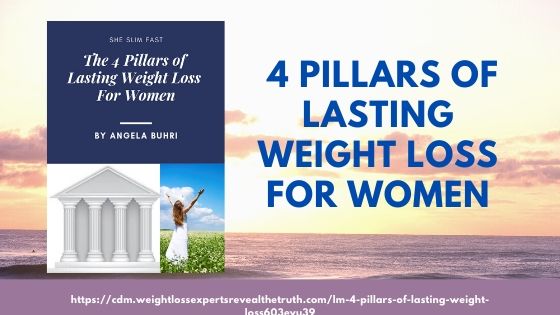 Here is a test for you to find out whether or not you are in charge of your thinking, your emotions, your words, and your actions.
Is your life exactly the way you had dreamed it when you were young, and is it exactly the way you want it to be?
If your answer is a wholehearted, 'Yes,' then you're probably doing a lot right.
But if your life isn't the way you want it to be, then look at your thinking, your habits, and the actions you take. If your health is not what you want it to be, look at how you're treating your body.
If you wake up in the morning and immediately think, "Gosh, what shall I wear today? I'm wondering whether the spaghetti I ate for last night's dinner showson my scale today." Then the next thing you do is step on the scale, and there is a 50:50 chance that you will not be happy with your weight. So your thinking goes around all the reasons why you're not happy with your body and this determines your mood of the day.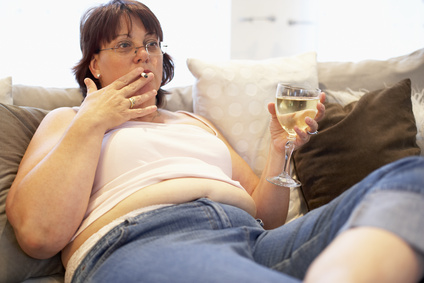 You may believe that your weight determines your attitude and that this was normal. But it's actually the other way around. The mind always influences the body. Therefore, before taking care of our weight, we have to take care of our mindset. It begins with your attitude!
"The greatest discovery of this generation is that the human being can change his life just by changing his attitude." –William James
The thing is, when you decide to do something – like eating healthier and going for a daily walk – and then you don't follow through with it, you lose self-control, you lose self-esteem, and you lose your integrity…step by step, each time you don't follow through with what you said you would do.
When you don't follow through with what you say you're going to do, you probably think, "What does it matter! Nobody knows!" But that's not true. YOU know. And not following through with your promises to yourself takes a hit on your integrity.
And even if nobody knows what you promised yourself, because of the fact that YOU know, you change your energy, your vibrations. You ooze the energy, "I can't keep my commitments," and subconsciously, people around you will recognize and stop trusting you without knowing why. They just have a bad gut feeling about you.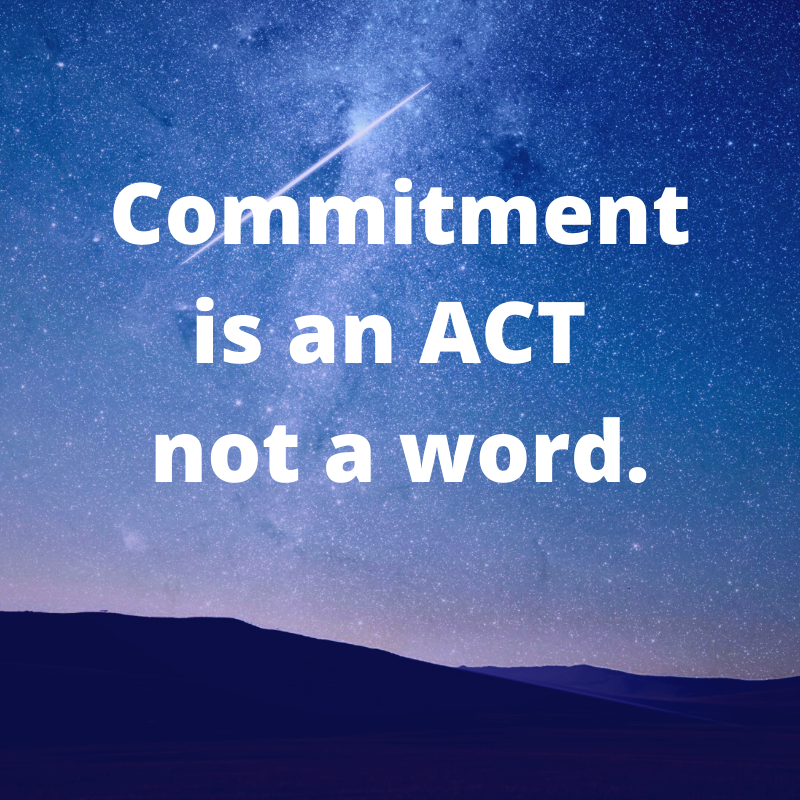 Commitment to a weight loss program – of course, it has to be one that has the chance to bring you lasting results and no diet can ever do that for you – can lend stability to your everyday life. Because, with each daily action, you reaffirm your commitment, and that brings a feeling of empowerment and increased self-esteem. Now, instantly, your energy changes and people around you can sense that as well.
It's through our everyday behavior that we get serious results and create a life we want and like.
"Commitment means you 've got to get past your excuses, follow through on what you say you are going to do, make your word count and be responsible and accountable." –Dr. Susan Smith Jones
There is one exception: weight loss diets, and I highly recommend to better make a commitment not to follow a weight loss diet. They are designed in a way that it's simply not possible to follow through because your body lacks vital nutrients and will sabotage your attempt to follow through with the diet. You simply can't win with any weight loss diets. Therefore, you should first do some research to find out what really works and be willing to give your weight loss process time. Any quick fix can't work long-term, and what you want is long-term success. You want your diet to be a healthy one that provides your body with everything it needs. You want a healthy lifestyle you can implement. You want maintainable weight loss. For such a goal, you have to be willing to give yourself enough time.
Once you find such a strategy, make a commitment to follow through with it, get past your excuses, and take action every day until you reach your weight goal. And I promise you; you will be stronger than ever before. Make your word count and be responsible and accountable.
So you've got to follow through on what you say you are going to do if you want to lose your weight for good.
*****
A few years ago, I did an interview with several health and weight loss coaches with a different approach than the diet approach. One of these experts was the bestselling American author, Dr. Susan Smith Jones. She quickly turned out to be one of the most amazing interview partners, and she spilled the beans in that interview. She held nothing back. If you want to hear the whole interview with Dr. Susan, you can go here and claim your free 2-week membership trial.
https://cdm.weightlossexpertsrevealthetruth.com/oto1-weight-loss-experts-reveal-the-truth-membershiptjnoj5ns