"The world is a great mirror. It reflects back to you what you are. If you are loving, if you are friendly, if you are helpful, the world will prove loving and friendly and helpful to you. The world is what you are." –Thomas Dreier, Author
This quote is true in so many ways. Our circumstances are always simply a reflection of what's going on inside. It can't be any other way. This is a Universal Law and it is effective for everybody and everything in the whole Universe…whether you believe in it or not.
It can't be that a depressed or toxic person can only attract health, wealth, love, and happiness. Likewise it's not possible that a mainly positive, loving, and happy person can only attract disaster, hate and tragedy.
When you sow carrots, what will you harvest?
Carrots.
When you sow corn, what will you reap?
Corn, of course.
When you sow beans, it's beans you will get.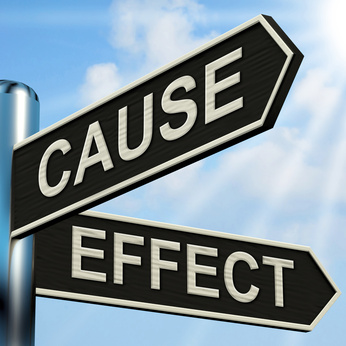 It's one of the fundamental Universal laws that we can't get anything else but what we cause or sow. And life – circumstances – is so kind to tell us exactly what we're doing wrong by putting a mirror in front of our nose.
If you don't like what you see in the mirror you can simply change the causes you have set. Sow differently and after a while you will reap differently. It's just as simple as that.
BUT….
What are the causes that led to weight gain?
Well, here is where the topic weight loss becomes really challenging, especially for all the diet and exercise gurus, because we humans tend to solve problems from the very same situation and mindset we originally caused the problem. Neither diets nor exercise alone will solve the issue. This is like sowing salad hoping you'll get beans, or sowing radishes expecting to harvest melons.
Before you take any action towards your weight loss goal I recommend take yourself a moment to reflect on your current situation. Look into that "mirror" of life openly and ask yourself how you unknowingly and subconsciously caused that current body weight and shape. Use that mirror life is kindly providing to you.
The first thing you will see – if you're willing to look at your weight with honest eyes and an open mind – is that there is simply an imbalance. There is something too much on your body that doesn't belong there. As a rule of thumb, wherever there is something sticking out, it doesn't belong there…it's an imbalance.
The next step then is to ask yourself, where your health and life have gotten out of balance. Where is there too much of something and in what regard is there not enough?
The most obvious conclusion might be: I eat too much of the wrong food and I don't exercise enough. Although this is true in most cases, it's not all that there is to it.
Dig deeper!
*****************************************************************
https://cdm.weightlossexpertsrevealthetruth.com/lm-4-pillars-of-lasting-weight-loss603eyu39
*****************************************************************
Your imbalanced eating and exercising habits only reflect another imbalance, an inner imbalance. The poor eating and exercising habits are just another reflection of what's going on inside.
So continue watching into that "mirror" and ask yourself where your life, your mindset, your behavior, your past choices have gotten out of balance.
For example, for many overweight women there is an imbalance in setting healthy boundaries. On one side they allow others to constantly cross their boundaries while setting too strong boundaries in situations where they should be open and receptive. They allow others to take advantage of them and at the same time they pull their guards down when they should open up to life.
A large number of heavy men and women also have a financial problem. They allow others to take advantage of them or spend money for all the wrong things, and at the same time they can be quite demanding themselves without realizing that this causes an imbalance and more financial lack. They have an imbalance in giving and receiving.
Another imbalance can be regarding your inner protection, which is very closely related to the boundary issue. On one side the extra fat acts like a protective wall and buffer around you. On the other hand that way also your contact surface grows, what is not desirable either. The bigger you are, the better you can be attacked and bullied because of your larger contact surface.
Of course there are more imbalance issues related to weight issues, but these are the three most common ones.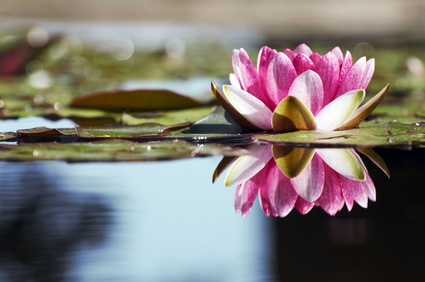 I invite you to take yourself 15 minutes to reflect on your personal situation and possible reasons for being heavy. Ask yourself where in your life you have an imbalance. Talk about those imbalances with an understanding friend, or if you don't have such a friend you can send me an email to info@sheslimfast.com and we can discuss what you currently need the most to change that imbalance.
As soon as you're doing this, magic begins to happen. Because, while reflecting on possible inner causes of your extra weight you begin to take responsibility for the issue. And that automatically and immediately empowers you. You have taken the reins for your weight loss into your own hands and thus moved your weight loss progress to the next level.
Now you can proceed on a more solid foundation.
Happy slimming!
**********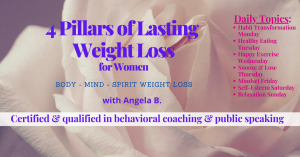 Is your health and weight loss goal worth five to fifteen minutes of your time every day?
If you want to learn a process that leads you to constant weight loss success by baby stepping, check out my Facebook group. 
You can get a feeling for the 4 Pillars of Weight Loss process for free. Simply join my closed Facebook group where you can go through the process by taking tiny daily baby steps completely stress free and still make tremendous progress.