The earth is flat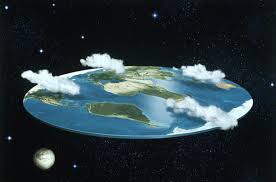 Only a few hundred years ago people firmly believed that our earth was a disc and that they would fall off that disc if they sailed too far from the shore. And, of course, they had a very good reason to be so certain about that belief. They didn' t see anything beyond the horizon.
Isn't it then the most logical thing to believe that there was nothing beyond that horizon?
From our ancestor's perspective it sure was. Today we tend to smile about such ignorance. Yet, in the same ignorance we believe other myths to be true.
Such a myth is, "All you have to do to lose your weight is eat less and exercise more." This is the calorie in and out theory. And it makes total sense, doesn't it? We have many reasons to believe it, and we certainly have had some 'proof' for that theory…just like our ancestors had to 'proof' to them that the earth was flat.
But is it true?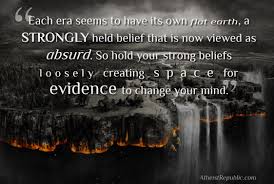 Or is it just another thing we tend to believe because we can't see beyond the horizon?
Our ancestors had proof as well that the earth were a disc…or so they thought. And that 'proof' affirmed their theory over and over. It took several centuries to bring the truth about the fact that our earth is a globe to all corners of the planet and into the heads of all the people.
I love that quote, "Each era seems to have its own flat earth, a STRONGLY held belief that is now viewed as absurd. So hold your strong beliefs loosely creating space for evidence to change your mind." (Author unknown)
You see, our earth, even the whole universe doesn't care about what we believe. We are free to believe whatever we want. The universe doesn't care. It simply continues to do its 'job'. And its job is nothing but fulfilling the will of its Creator. The strongest and firmest believe can't change how our whole universe functions. Would it only move a millionth of an inch away from the Divine plan, our whole world would instantly fall apart. So thank goodness the universe doesn't care about what we believe or do not believe.
The next thing to understand is that our body – being part of nature and the elements – is under the exact same universal laws like our planet and the whole universe. Our body is an intelligent being, and it does nothing else but following its Divine plan and the rules of nature. No matter whether you like it or not, it does nothing else but its job…like clockwork. And if accumulating extra fat is life-saving for you at the moment, then your body will do that because it is the lesser of two evils.
You may believe that the earth were a disc or that weight loss diets and pills would bring you the desired results. You can follow as many diets as you want. You can suck out that extra fat through liposuction. You can starve and take diet pills. You can run all day seven days a week. You can cut out half of your stomache. But your body couldn't care less about what you believe and what you want. It is doing its job second after second, minute after minute, hour after hour, and day after day…24/7 and 365 days a year…year after year.
By the way, this alone would be a fantastic reason to be so grateful to your body. But since you're reading this article, chances are that you're not so happy with your body right now. Not yet. But you will eventually get there.
It's the same like with the universe. If your body would only move a millionth of an inch away from its divine plan, you would instantly die and stop existing in this physical world. Seen in that light, can you blame your body for accumulating more fat than you would like to have or than fashion dictates?
What you must understand is that accumulating fat is a life-saving mechanism in the eyes of your body. The problem between you and your body is that you don't understand what your body is doing. It's not the body that needs to fulfill your wishes…it's you who need to align with your body. If you want to lose your excess weight permanently, understanding your body and cooperating with it instead of working against it is part of your responsibility. And to explain you how is part of my job.
The process from believing that the earth were a disc to the realization that the earth is a globe took centuries. A paradigm shift was necessary before that truth could sink into the minds of all the people. But as soon as that paradigm shift took place that discovery has opened a whole new world to us with incredible new perspectives.
Did it make the world more complex? It sure did. But at the same time that discovery has instantly opened unbelievable chances, possibilities and opportunities. Our life has literally gained a new dimension.
No doubt, it would be far easier for all those that are struggling with excess weight to continue believing that their weight problem could be solved with a diet. Such a two-dimensional thinking is certainly easier than the truth. Although such a wish is more than understandable, it's like believing that our earth were a disc.
Without a doubt it would be simpler and easier if lasting weight loss worked that way, but it does not. We all want to have life easy and simple. But, honestly, has any goal achievement process ever been easy? Sometimes, but it seldom is for the majority of us. Done correctly, it's always simple, yet not always easy. 
Almost every woman that is challenged with excess weight has made the realization that such a problem can't be solved with a weight loss diet. Somehow deep within we always knew it. But on the other had we really wish that things that sound too good to be true one day might become true.
The message I want to give you is:
You CAN lose your excess weight for good, if you do it right!
It sure is possible, no matter your current weight, age, or genetics.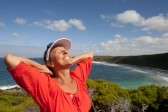 Many women have achieved their permanent weight loss goals. And so can you. What it takes at this point is a mindset shift. Your body desperately wants to get rid of that extra fat, and it is only waiting for you to show up and do your part. So your body's cooperation will be certain once you will have found the right route to go and once you're ready to cooperate with your body.
Of course, those 10,000+ people who attended my seminars are still only a very small percentage compared to the millions and millions of people that are struggling with their weight. And why have only so few people realized the truth about lasting weight loss?
Because over 95% of overweight women are still hoping for that miracle diet or pill. Over 95% are hoping that there will one day come the ultimate weight loss diet that will solve their weight problem once and for all. Sadly, that day will never come, because it is not in the nature of diets to bring permanent results.
The first step is to let go of wishful thinking and the quick-fix mentality. Then, the next is to learn to listen to your body more closely. Your body knows better than any physician what it needs and how to heal itself. And your body knows best how to get rid of all that extra fat.
If you only listen…