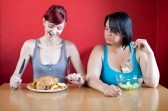 Do you look enviously at your slim friend?
Do you ever compare your friend's weight loss progress with yours?
Do you ever think that others are losing weight much faster than you?
Although most people tend to compare themselves to others you shouldn't do it. Comparison can slow down your weight loss process tremendously.
Comparison is a trap.
Because, whenever you lose the comparison game – which you almost always so – you beat yourself up. Self-criticism consequently follows comparison. It's a game you can never win because you compare other people's positive sides with your negative ones.
Especially women who have grown up with Barbie dolls subconsciously want to look like Barbie. Although nobody does look like a doll, many women are striving to look exactly like that. And if they can't make it happen, they want their surgeon to "sculpt" them into that desired shape.
The reason why comparison is a trap is because it's a game that can never be won by no one. It drives people to do stupid and unhealthy things. It drives people to exhaustion.
Would you believe me, if I told you that you are perfect just the way you look and are right now?
You are!
In case that you think that I have become insane to call you "perfect" since you obviously want or need to lose weight, hold on for a minute. There are two reasons why I believe you are perfect.
Reason #1:
Like everybody on earth you have a particular life purpose only you can fulfill. There is no one on this whole planet that has the same mix of talents, skills, and experiences as you have. That makes you unique. And the reason for your uniqueness is your individual life purpose.
We always come with the perfect kind and shape of body we need to fulfill our life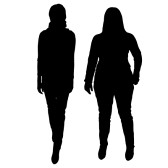 purpose as good as ever possible.
Now I admit that, obviously, you have gained some weight. Otherwise you would not be reading this. And thus you feel like not being "perfect" anymore.
Although I totally get that you want to lose weight – and I'm doing everything in my power to help you achieve that goal – I still have to tell you that you're perfect.
Reason #2:
Your body is a perfect organism with thousands of functions all perfectly orchestrated. And when you gain weight, there is a reason why your body feels that it needs to hold on to that extra weight instead of burning it. Your body would never keep some extra fat, if it was not in its/your best interest. Many times excess weight is simply life-saving.
Therefore: you are perfect just the way you are and look like.
Your body is doing a fabulous and great job. Your body is perfect in his functions.
And since we are all under the same natural laws, either all of us or none of us is perfect. Therefore there is no reason to compare.
By comparing yourself to other women and their weight loss process, you move your focus away from your goal. You become unsatisfied with your body. You begin to focus more on what is not good about you and your body, thus increasing exactly the things you don't want.
You are just the best "You" you can currently be. If you could have done better, you would have done it. That doesn't mean that your body can't change.
BUT…
…it can NOT change for as long as you're comparing yourself with others.
If you really want to become better, slimmer, more beautiful and "more of" whatever, you have to begin appreciating all the good things about you and your body. If you want your body to cooperate with you in your weight loss journey, you first have to be very grateful to your body.
Stop hacking awa
y at your self-esteem. Stop that harmful negative self-talk. Instead look at those things that are beautiful. Stop blaming yourself for not being perfectly slim yet.
Give up guilt because it tethers you to the past. Simply decide to do it better this time. You have come to the right place where you can learn all those wonderful strategies for sustainable weight loss. Simply decide to move away from all those tactics that didn't work for you and find a way that will assist you in your weight goals.
Now take a piece of paper and a pen, take a long and loving look into your mirror, and find at least 10 beautiful and positive things about your looks and your body. Write them down. Then take a minute to thank your body for its wonderful work it is doing day by day, minute by minute…for years.
To your beautiful you, no matter how well it's currently being hidden!