"Remember, happiness doesn't depend on who you are or what you have; it depends solely on what you think."–Dale Carnegie, 1888-1955, Writer and Lecturer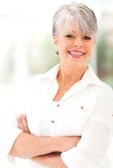 Neither does happiness depend on your weight and shape.
Yet we can see more slim happy people than heavy happy people. Overweight people often mask their lack of self-esteem with humor and cynicism what can make them fun to be around, but that doesn't necessarily mean that they're happy, and the happiness they demonstrate is not genuine. Of course, there are the exceptions, but today we are not talking about those. 
I'm sure you have heard the adage, you are what you think. And that is a very fundamental truth.
We ARE what we think.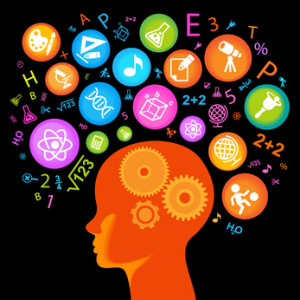 The thinking is part of how we create our circumstances and health. Whatever we think often enough will become – wanted or unwanted – reality.
Every thought creates a matching emotion and these two energies combined act like an arrow, bringing you to what you have just said in the fastest way possible. Just think a certain thought often enough and allow the according emotions to linger, and you're creating the matching circumstances…positive or negative. 
We literally think and feel our life into realization. And, of course, the same is true with our weight and health. 
When you think about your weight and fattening foods all the time, don't be surprised when you're getting heavier or bounce back after a diet.
When you constantly criticize how you look like, that's what you're going to get more of very soon.
When you weigh yourself every day and agonize over your current weight…that is exactly what you're attracting more of.
Condemning, complaining, rejecting, disliking, focusing, agonizing, and criticizing…this is a sure ticket to more of the same. 
Think, "I'm fat" and that's what you are going to manifest.
Your thoughts and emotions are the seeds you plant and the weight is the results. 
You can't saw weeds and expect to get beautiful, delicious tomatoes. If you saw salad, you will not harvest asparagus. If you saw beans, you will not have a beatiful, tall and strong oak tree. 
When you saw beans, you'll get beans. When you saw carrots, carrots you will get. 
You reap what you saw. 
*****************************************************************
****************************************************************
The right thinking is so crucial for your weight loss success that it's an important part of all of my programs. Following a diet and an exercise plan without changing how you think and feel about yourself would be a ridiculous attempt and not bring you the desired lasting results. Because what you think and how you feel about yourself has a stronger impact on your weight than what you eat.
"What you think and how you feel about yourself, has a stronger impact on your weight than what you eat." –Angela Buhri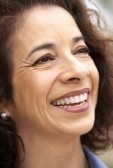 When I started as a weight loss coach 37 years ago my slogan was, "Weight loss begins in your head." And that statement is still true today. In fact it's so true that since then so many entrepreneurs have copied it all around the world. Suddenly everything "begins in the head". To this very day that slogan is still in use in many industries. Although their copying doesn't reflect that their success begins in their heads (people who need to copy and model others can never be really successful), the statement is still true. Any kind of success begins in our heads.
If you don't believe me, make a little test. Look at yourself in the mirror, weigh yourself and look at all the extra fat that is hanging there.  Now try to go for a walk or a jog. How motivated are you to do something about that extra fat? If you're like 90% of us, the chances are very slim that you'll be motivated to do something about. Only about 10% would instantly feel motivated to get a handle on their handles right away. Most people feel stuck, helpless and slowed down by focusing on their weight.
For all these reasons, never focus on what you don't want. Instead look at the current situation with an open and realistic eye WITHOUT going the "OMG, I'm so fat" route. Don't judge, don't criticize, don't condemn. It's what it is. Own it. Just take notice of what currently is and then make a firm decision about what you want instead. Create a clear vision of your weight goal and your dream body. And henceforward you only focus on your goal and the progress you're making.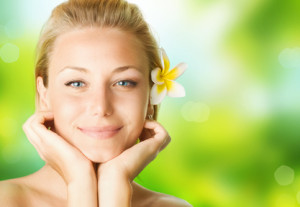 Your ideal weight begins in your head!
Changing your thinking habits is the first step to your weight loss success.
Happy slimming!
**********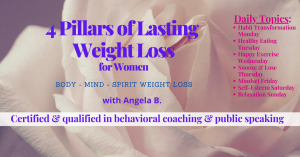 Is your health and weight loss goal worth five to fifteen minutes of your time every day?
If you want to learn a process that leads you to constant weight loss success by baby stepping, check out my Facebook group. 
You can get a feeling for the 4 Pillars of Weight Loss process for free. Simply join my closed Facebook group where you can go through the process by taking tiny daily baby steps completely stress free and still make tremendous progress.