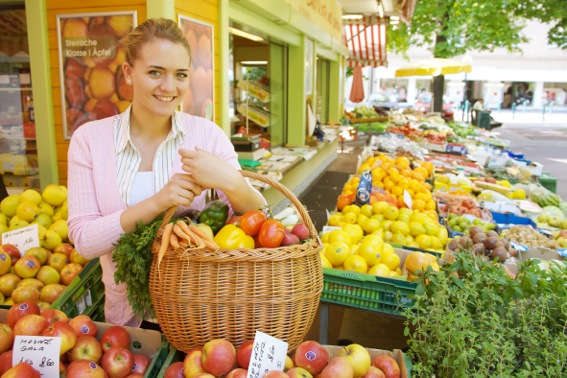 Frankly, I couldn't care less about calories. I never counted a single calorie in my entire life. I rather use that time for cooking healthy meals.
Calories don't say anything about the quality of the food. And health and weight loss is MUCH more about quality than about quantity. By eating the right quality food you will find quantity hardly to be an issue.
Before I'll come to some healthy foods that can support your weight loss process, I have to remind you of the nonsense of the low-fat theory. Low-fat food has only one purpose: to make the purse of the food industry fatter. Because the more low-fat you eat, the more food you need to eat.
Fat has one very important function: it acts like a natural appetite suppressant. With natural, healthy fats you are full much faster and you automatically eat less.
So now that we have the low-fat myth out of or way, let's look at some really healthy foods that can support your weight loss process.
Nuts and seeds are high in proteins what is crucial for your fat-burning process. Plus they contain a lot of natural fat what makes you feel full faster. Nuts and seeds make great snacks between the meals.
Avocados are very healthy and can also make you feel more full. Women's Health magazine said, "The fiber, potassium, and healthy fats in the green stuff may curb your cravings so that you skip afternoon trips to the vending machine."
A real miracle food for weight loss are blueberries. They are best known for their anti-aging effects and are very figure-friendly at the same time.
Women's Health magazine also lists dark chocolate as figure-friendly and states that eating chocolate is associated with lower levels of abdominal fat. Frankly, I don't know if this is true. We all have seen it so often in the past that one year a particular food was a strict no-go and only a few years later it was promoted as a real fat burner. As an informed reader of my newsletters you know that statistics can be manipulated…a method often used when sales go back drastically. Then suddenly that food becomes "healthy". Like I said, I can't tell if this is true about chocolate or not. Just keep in mind that chocolate contains sugar and sugar is a real toxin for everybody, not just for weight-struggling people. On the other hand I'm not a friend of strict "Eat-this-don't-eat-that" diets either. Besides, I can't see why cocoa shouldn't be healthy. So I leave that decision in your hands. However, if you decide to have some chocolate from time to time, at least eat it slowly and enjoy every bit of it. The worst you could do for your weight is to cobble it down with a feeling of guilt. If you absolutely can't be without chocolate and are willing to do without sugar, get dark xylitol chocolate.
How many years have you been told not to eat egg-yolk? Well, thank goodness I never fell for that one. Because whole eggs are loaded with appetite-curbing proteins, what makes them a great breakfast food. The cholesterol lie has been debunked for a long time now.
Mmmmm, salmon! One of my favorite source of proteins. It's full of monosaturated fatty acids which increase metabolism to burn fat faster. If you want to lose weight effectively, you need a lot of natural Omega3.
Lots of leafy green vegetables (such as spinach, collards, Swiss chard, kale, salad greens, etc.). You can't overeat on those and nicely fill your stomach without having to worry about the calories. Or you can use them for your green juices. These produce should grow in everybody's backyard. I even grow them on my balcony and window sills.
Beans – especially black beans – contain considerable amounts of protein what makes it an ideal protein source for vegetarians. For sustainable weight loss we need large amounts of proteins. Please, just never eat canned beans. Beans are so cheap to buy and so easy to cook.
These are all produce (minus the dark chocolate) you could pretty much live from without lacking any vital nutrients. If you're serious about eating healthy and losing weight in a healthy way, these could be your staples that can cover at least 80% of your body's nutritional needs. And at the same time you will never have to worry about calories or amounts.
If you want to do a real great job, go organic with these foods. Food additives are some big contributors to weight gain. If you don't let them get into your body, you will never have to worry about getting them out of your body. Be smart and save yourself a lot of time, money, and extra pounds by going organic.
For more valuable tips on how to lose weight AND keep it off, please check out this page.