"I don't have time" is another lie we have come to believe was true. It's not true and yet, how often do we all use it!? We have all been given 24 hours every day, 7 days a week, 365 days per year. And the greatest gift we were given when we came into this world is the FREEDOM to use these 24 hours as it pleases us. Well, this is not exactly true. Let me put it this way: we have been given the CHOICE of how to make the best of our 24 hours a day. So it is not about time, but about our priorities and how we use our time. It is a CHOICE, not a fact.
I recently saw a post on facebook that said it so clearly that it forces you to stop and think again:
"Of course you would die for your kids. But would you live healthy for them though?"
Using this gift of time for making money is certainly not a wise choice. I know, we all need money and some of us work so hard and yet make hardly enough to make ends meet. But we cannot use this as an excuse for not making a better and wiser use of our gift of time. The situation we are in is a result of the choices we have made in life, whether or not we like the outcome.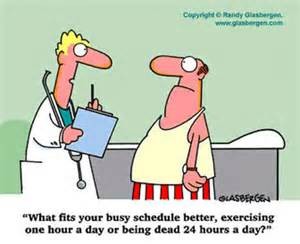 I recently saw a cartoon, about a doctor asking his patient, "What fits your busy schedule better, exercising 1 hour a day or being dead 24 hours a day?" Ouch!
Using the excuse, "I don't have time" to take care of our health is about the most stupid excuse we can ever make. If we do not take care of our health appropriately – and excess weight is a disease –, we automatically shorten the time we have on this planet. We shorten our life. Ask yourself how much time you could gain if you would stop watching TV for a while, watching funny YouTube videos, chatting on social media (the most time waste of all) or playing games on the internet.
Statistics tell us that an average adult watches television eight years of his or her entire life. Eight years! And I guess it even gets worse with social media. Just imagine what you could accomplish in eight years and how your body would look like if you just used a small part of it to take care of your health, to exercise and move your body.
"I can't afford it"
Similar to "I don't have time" or "I can't," this is another classic excuse. And still, this is widely BELIEVED to be true by millions of people. I have no doubt that you could show me your bills, your paycheck, your cost of living, and your budget to prove the accuracy of this statement. I was living below the poverty line for years, so I know what it's like to have more wishes than money.
The quote, "You can either make money or you can make excuses, but you can't do both" is very much true. The one excludes the other. While some use the excuse "I can't afford that," others go out and make the money they want and need. There are always better paying jobs available – even in bad economic times. There are even jobs for chronically sick people who have to work from home. You can work for me, if you need more money. We are living in a Universe of abundance. It is not life that makes us poor, but our own belief system and our excuses.
How about this?
You can either lose weight or you can make excuses, but you can't do both.
Please ask yourself the following question again:
"Can I afford NOT to take better care of my weight and health?" Let me repeat this: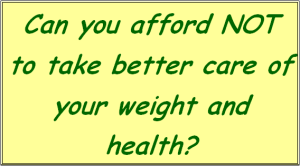 Can you?
I cannot answer this question for you. Only you can answer it for yourself.
Do you know how much time you have left? No one knows. And even if you have a lot of time left in this life (although when we come to the end of our lives we suddenly feel that it was never enough), is your current life so good that you would want to go on with it until the end?
Choices
Like time, money or the lack of it is not a fact but a matter of priorities. We all do have money, otherwise we would be dead by now. If we cannot earn it, we get it from the government or through some form of social assistance. The truth is that we are making choices every day for what we want to spend our money on. We have our priorities in life and according to these priorities we spend our money. For instance, if your TV broke down today, what would you do to buy a new one? How about your car? Isn't it interesting that most people find a way to get a new car or a new TV set, but very few go that extra mile to invest in their health, unless they are absolutely forced to?
What would you say if I told you that I have proof that it is not the lack of money that is holding you back from reversing your weight? There is so much evidence of that truth that I do not even know where to begin.
Many, many experiences with people have proven to me over and over again that it is not about the money. And it is not about a lack of time either. 80% of the whole slimming process has to come from within anyway. And this does not cost a dime. How much cheaper than gratis can it get? Keep in mind, you obviously had enough time and money to become overweight. Reversing this weight won't take up more time than becoming overweight.
When people ask me how long the weight loss process would take, I usually say that it might take between six months and two years, depending on the weight a person wants to lose. Sometimes it can be done faster, sometimes it takes longer. Sometimes a person can lose her weight within a very short time, but this can only happen when that person has done a lot of inner transformation in the past and is able to let go almost immediately. So, it could happen even as quickly as within a few months. It happened to me. Experience shows that losing weight can be fast, easy and effortless, if you go through the process and don't try to take the fast route.
*****************************************************************
https://cdm.weightlossexpertsrevealthetruth.com/lm-4-pillars-of-lasting-weight-loss603eyu39
*****************************************************************
It depends on numerous factors, such as the ability to let go, the faith, the beliefs, the determination, how easily a person can spot inner blockages, insight into and understanding of their inner causes, etc. It depends on so many things on which I have no control. Only the client alone can determine how soon or fast this will happen. And this is something that cannot be done with the intellect. It must come from the heart. That's why working with an experienced coach can drastically reduce the time it takes to achieve your final goal.
Now this answer of mine gives many of the weight loss clients another excuse: "It takes too long." How long do you guess it took the weight to build up? Your excess weight did not appear within a month and it will not go away and stay off within a month. If lasting weight loss is your goal, you have to get clear about that. Your body needed time to accumulate fat and it will need time to burn it off. 
And here is another provocative question. How long does it take to lose that weight by yo-yo dieting?
Forever!
One step forward and two steps back – as this is the normal result of the dieting approach – does not get you anywhere but heavier. So you didn't gain anything by going the fast route.
Just ask yourself this: "Where will I be and how will I feel in a year from now, in five years from now, in ten years from now, if things will go on like this?"
Excess weight can only be reversed by you in cooperation with the body in order to make it last. And the reversing process takes time. So let me ask you again, "Where will you be and how will you feel in a year/five years/ten years from now if you go on like this?" I can give you the answer: At the very same point where you are right now, if not worse, with a few more pounds accumulated and some more health issues. Face it!
But where will you be in a year from now if you stop the excuses right now, start the weight loss process today using a real weight loss strategy vs. a short-term diet? You certainly will not be at this point anymore, and you will definitely have learned a lot. If you do it the right way (by eliminating and transforming your root causes), you most likely will have lost dozens and dozens of pounds by then, and enjoying a slimmer body and better health in general. The results will depend on how quickly you allow yourself to get to the core of the problem. If you do it right, most people will have achieved their final weight goal within one year and the very heavy ones within two to three years.
Just think back how fast the last 12 months went by and imagine where you could be today had you started 12 months earlier. This thought process will immediately get you on the right track and give you the motivation you need to start right away.
So do you think it would be worthwhile to undertake that journey?
Would it be worth your while to take some time, to apply some of the things you learn through what I share in my facebook group, in blog posts, teleclasses and workshops, to spend some money for your health, to do some exercising, etc.?
And most of all, can you afford not to do it?
I wish you good luck on your way to a slimmer body and better health! If you choose so, I will always be in your boat. 
Angela B.
P.S. Are you ready to say goodbye to your excuses? Are you ready to say goodbye to some of the fattening habits and turn them into slimming ones? Are you ready to forget the excuses, "I don't have time", "I can't afford", or "I can't now" now and give yourself a real chance to finally get rid of your excess weight once and for all? 
[Missed part 1? You can access it here!]
**********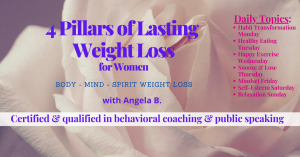 Is your health and weight loss goal worth five to fifteen minutes of your time every day?
If you want to learn a process that leads you to constant weight loss success by baby stepping, check out my Facebook group. 
You can get a feeling for the 4 Pillars of Weight Loss process for free. Simply join my closed Facebook group where you can go through the process by taking tiny daily baby steps completely stress free and still make tremendous progress. 
https://www.facebook.com/groups/4pillarsoflastingweightloss