"If you don't know where you are going, you will wind up somewhere else!" –Lawrence "Yogi" Berra, Baseball Player and Team Manager
When you plan a journey, there are two fix points you need to know: the starting point and the arrival point.
You would never call your travel agent and order a ticket to "somewhere else". Neither would you tell the agent that you want to fly to Paris without telling her from which airport you want to leave.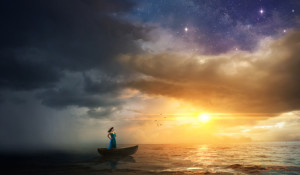 In both situations you would never arrive. You would either end up somewhere you didn't want to go or simply stay where you're at.
And there is a third decision you need to make before your travel can begin. You need to decide how you want to travel. Do you want to fly with a plane, a helicopter or a hot-air balloon? Do you prefer to travel on the land by car, bicycle, train, bus, or by foot? Or do you choose the water to travel? There are several travelling methods you can choose from. In other words, you need a map and a travel plan. 
If you want to travel a long distance, for instance a whole continent, you'd better be prepared to use several means of transportation; at some point you may even have to walk.
Now what does that have to do with your weight loss?
If you're very overweight, your journey is like unexplored territory. You may have taken some short trips in the past hoping that this would get you to your final destination and inevitably you got discouraged and frustrated because it didn't.
And this is exactly the big mistake.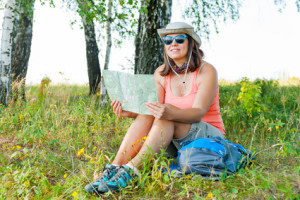 You have to plan the journey ahead of time. And depending on the length of the journey you better choose some sensible "transportation" means.
Also mind your expectations. If you only need to lose five to ten pounds, then a 1-month diet may get you to your goal, at least temporarily. But if you need to lose 20, 30, 50, 100, or 200 pounds, you need a whole different strategy.  With each 10-pound step you have to choose a more complex and thorough strategy for long-term success. And you have to take your time. Don't think in monthly terms. No matter how little you want to lose, think about one year of inner transformation, IF you want to keep your lost weight off. The weight loss itself may take faster, but you need to make sure that the new weight will be maintainable, therefore you want to get everything out of your way that lead to weight gain in the first place. And if you have to lose more than 100 pounds, you better take yourself two to three years to make the weight loss sustainable. 
*****************************************************************
https://cdm.weightlossexpertsrevealthetruth.com/lm-4-pillars-of-lasting-weight-loss603eyu39
****************************************************************
Then, of course, you want to know your final goal. "Somewhere else" is not a goal. "Less weight" is not a goal. In order to arrive at your destination you need to know exactly where that's going to be.  Otherwise you'll never have the satisfaction of having "arrived", and you need that for your motivation to follow through.
State clearly what you want and where you want to go, for instance, "I want to weigh 120 pounds." Choose a realistic goal that matches your body. 
Of course you can achieve your final weight goal without knowing how much you currently weigh or what the measures are. But think about, losing weight can be a tedious endeavor and depending on how much weight or inches you want to lose can take quite a while. If you're very heavy, this process may take up to three to five years. In order to have the willpower to follow through you need to have some short-term successes.  
During that time you need successful milestones you can check off from time to time. Successes are strong motivators, especially when you choose to take that journey alone (I hope you won't, because then it could literally take you forever). Knowing where you started and achieving sub-ordinate targets will give you evidence of success and motivation to move on. That doesn't necessarily need to be the scale. I personally prefer taking measurements. Measures are more reliable than the weight.
Now take yourself 15 minutes and sit down with a piece of paper and a pen. Take a glass of water. Determine your current weight and measure the circumference of several body parts.  This is your starting point. 
Then decide what your realistic weight goal could be in terms of weight and dress size. If you are not sure, ask yourself at which weight you felt best in your body. Write that goal down.
The third step is to decide what strategy could get you there and what to "pack" for the journey. This is where most people struggle. The only two tactics for weight loss most people know are dieting and exercise, and diets are only for short-term goals and exercise are long-term goals – you don't see immediate results. But the heavier you are, the less likely these two tactics will do the job. Ask yourself, whether you have to reduce your stress, sleep more or better, detox and cleanse your body, or what else your body needs to release that extra fat. 
Then you also want to decide who you want to have in your boat. It took me 38 years to detect 59 possible causes of women weight problems and how to address them. Most women only know what they are doing wrong but they don't know the real root causes because they are always subconscious. But it's exactly the psychological root causes that provide you from losing your weight for good until they will be addressed. Of course you can go on that journey alone, but my experience of working with over 10,000 women showed me over and over that women run in circles when they are trying to lose weight. And that doesn't get you anywhere.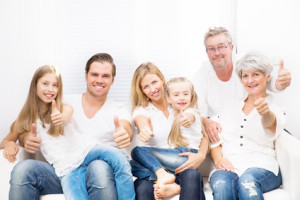 If you don't know what else could help you to achieve and keep your final weight goal, feel free to send me an email to info@sheslimfast.com and we can discuss your individual situation. I know 59 causes of weight issues and can give you direction how to eliminate them. Or you can join my FREE Facebook group that is currently one of my most successful programs.
Happy planning and arriving!
**********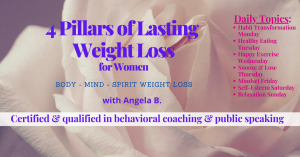 Is your health and weight loss goal worth five to fifteen minutes of your time every day?
If you want to learn a process that leads you to constant weight loss success by baby stepping, check out my Facebook group. 
You can get a feeling for the 4 Pillars of Weight Loss process for free. Simply join my closed Facebook group where you can go through the process by taking tiny daily baby steps completely stress free and still make tremendous progress.