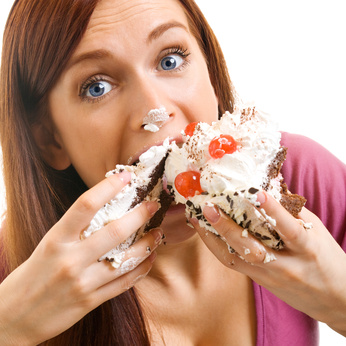 Emotional eating is an issue many overweight women are struggling with. The problem is that they don't understand the real cause behind emotional eating and thus try to tame the beast with willpower.
This is a completely useless strategy because when you do that, you deal with two completely different levels of your being. Willpower comes from your mind (will) and the emotional eating – as the word implies – has to do with emotions. Emotions can't be dealt successfully with willpower. And Dr. Carol Solomon, one of the weight loss experts I have interviewed – a specialist in emotional eating – explained why willpower is not a good strategy to overcome emotional eating.
Dr. Solomon, a psychologist, has struggled with the same 20 pounds over and over and over again. She said that she was definitely a compulsive eater and that she was really obsessed with food. It occupied a lot of time and space in her head and it just caused her a lot of angst, a state of mind she didn't like at all. She kept going up and down in her dieting with a lot of yo-yoing, which caused her a lot of problems.
She said that although many overweight women may think, "Only 20 pounds…lucky her," that to women it doesn't really matter whether she is 20 pounds overweight or 50 pounds or 100 pounds. The vicious cycle aspect of feeling that you're going round and round and round with the same issue over and over is always the same, and so are the struggles.
"That's the frustrating part that it's so discouraging for people and I think maybe people with more weight to lose feel even more discouraged. But to me it's just frustrating, it's discouraging and it's demoralizing really," Dr. Solomon said.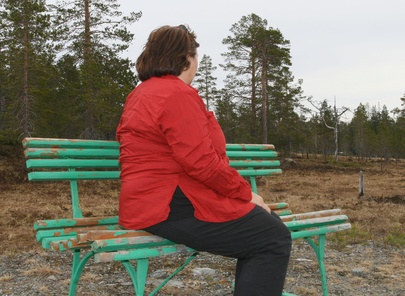 When I asked her what the reason for our obesity epidemic in the Western world might be despite of the fact that we have so much food to choose from, she said, "There is definitely something wrong in the system and there are a lot of factors that contribute to that. I think the whole world is feeling so much stress. People who work in corporate jobs are functioning with so much pressure and so much uncertainty. People are so overwhelmed with their lives; and overcommitted. There are so many demands and responsibilities and less support, and less social interaction; which is one of the keys to happiness. Stress is really equivalent to what smoking was in the 50's. It's killing us. One of our favorite responses is to overeat and I think that people just don't make time for themselves and they just don't pay attention. There is a lot of unconscious eating going on until something happens and then you say: Okay, I've got to do something about it."
Stress is a huge factor regarding weight issues and a huge trigger. Stress leads to a variety of negative emotions which are mostly 'undigested', and we have to do something with them. So food is just a quick and easy answer and comes in handy, although it really creates more problems we can't deal with.
When I asked her what she thinks about diets, Dr. Solomon answered, "Well, I think that we all know that diets don't work, and that diets result in a net gain. I think there was a study once that showed that people on diets gain back a 107% of the weight that they lost. So, all the weight that they have lost plus 7%, and yet there is a $50 Billion diet industry out there. That's a lot of money no matter what currency you are talking about. It just shows how desperate people feel to find an answer."
"Diets create dependency on something that's outside of you," she continued. "Diet programs would have you believe that if you'd relax your guard, you'll devour everything inside. So if you believe that, then it's natural to start depriving yourself so that you won't gain weight. So, it's either one or the other all the time. You are either devouring or depriving; starving yourself or stuffing yourself."
I have often discussed why diets are counter-productive from a physical standpoint. Now you also begin to understand why dieting for weight loss is even a bad idea psychologically. I think it's really time to begin questioning the dieting approach for maintainable weight loss.
******************************************************************
Learn some simple steps to lose your extra weight for good!
8 Weight Loss Experts Reveal The Truth.
******************************************************************
But what is the answer?
If you want to lose weight, you can do it simply by eating when you're hungry and stopping when you're satisfied.
Can it be that easy and simple?
"…that's frightening to many people, because that means taking responsibility and trusting yourself. So a lot of people believe that they have to have this sort of outside structure, this sort of outside control of a diet but it never really works. To do something different; you are going against all the machinery of the culture especially that $50 billion diet industry."
And, oh boy, can they fight hard to keep you struggling and silence those weight loss experts who dare to speak out the truth. I could literally fill volumes talking about that subject and what tricks they used to get me out of business and stop talking about the truth. They just don't want to lose you as a returning customer.
To demonstrate what a dead-end road the dieting approach can be, Dr. Solomon explains:
"A lot of people like the idea of being told what to do when they are frustrated; initially; that's part of the appeal of the diets. 'I'm tired of thinking about food; I don't want to spend one more minute thinking about it; Just tell me what to do and I'll do it; Just give me a set of rules and I will follow them.' The problem is that the rules are impossible to follow and then people blame themselves. It also brings up resistance in people. Weight loss issues in general they really bread resistance. There is something inside of us, we don't like being told what to do, even by ourselves. We all have these little 5 year olds inside of ourselves saying, 'I'm not going to do it! You can't make me!' Like a 5 year old, stomping her feet. So dieting really perpetuates that cycle of making rules and breaking them that leads into those bigger issues of craving nourishments and gratification but not really allowing yourself to have it. So we end up feeling deprived."
By passing the responsibility over our weight and body on to a false diet 'expert', we not only become dependent, we also willing pass the power over ourselves and our lives to someone else. No wonder why millions of overweight women feel so powerless. This is a crazy downward spiral nobody can win.
We're trying to control something, and yet we feel out of control. That keeps us feeling small and powerless and it's a real downward spiral which gets worse and worse. Women often don't see a way out of that situation and start feeling very stuck. It's easy to get into that situation but hard to find a way out. You eat too much and then you feel like you should deprive yourself the next day. So you eat less because that's what all the books and doctors are saying: 'Eat less and exercise more.' But they never tell you how to do that in a way so that you can really stick to it. The reason is that they are not knowledgeable about the emotional part of it, so they can't tell you how to address these emotional issues.
At the beginning I said that you can't deal well with emotions through willpower. Emotions are emotions and will is will. Both happen on a completely different level. And it's the same with diet. You can't deal with emotions by eating less. That is simply stupid. When it comes to emotional eating, the real issue is emotions. So you have to deal with those instead of oging on the next diet.
Stress causes emotion, tension, fatigue and a lot more…all reasons that are driving us to the refrigerator. A lot of times you don't even realize what's happening there and why you are looking for food.
Diets are so counter intuitive; when we really think about what diets are. We are so used to the dieting approach that we have totally un-learned how to listen to our body, to our common sense, to our own intuition. And that's what surprises me so much, that we really have lost our common sense in all that. Dr. Solomon said that statistics say that we gain 107% after a diet and I think that everybody reading this would agree. Yet people do it again and again, they do something that doesn't work that has a 107% to fail! That is simply insane.
So what choices do you have during the Holiday season to deal with food? Give in and eat as much as you can and then jump on the next diet in January? Or depriving yourself while everybody else on the table is enjoying the food?
There is a better way. Mindful eating.
Enjoy the food you eat. Eat a lot of salad first. Drink a glass of water before the meal (you already knew that one). Eat mindfully. Be grateful for the food and the company. You can eat everything on the table as long as you eat slowly and enjoy each and every bite. After such a meal you will feel happy instead of remorseful.
We have to gain back the trust in ourselves, and this starts by taking responsibility over our own emotions. And it also starts by saying 'Stop' to the insanity and by beginning a normal, healthy lifestyle and reducing stress.
Some day in January I'm going to start with my SheSlimEasy Habit Transformation. Since I will only work with 20 participants, the group my fill fast. The last time I offered such a program, I was booked for 2 years in advance, and that within the first two weeks of January. So, if you feel that the SheSlimEasy method might be a good way for you as my subscriber can already register now and start with the program. I promise, it will not interfere with your Holiday feasts. I would like you to first go through my free webinar so that you understand what tis program includes and what you can expect. You can access the recording of the webinar here: https://cdm.weightlossexpertsrevealthetruth.com/webinar-truth-weightloss-registration.
Enjoy your Holidays….and happy slimming!
**********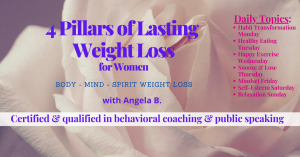 Is your health and weight loss goal worth five to fifteen minutes of your time every day?
If you want to learn a process that leads you to constant weight loss success by baby stepping, check out my Facebook group.
You can get a feeling for the 4 Pillars of Weight Loss process for free. Simply join my closed Facebook group where you can go through the process by taking tiny daily baby steps completely stress free and still make tremendous progress.