Why can people overeat with unhealthy food for decades, live the life of a coach potatoe, neglect their body, be in total denial regarding their psychology, and then expect to lose all that gained weight within only a few weeks?
Honestly, I don't really have an answer to that question because I simply don't understand such a lack of logical thinking. Of course, I do get that human beings are impatient and want to reach their goals ASAP once they have made a decision. But the gap between logic and the goal to lose weight fast is very, very big, especially with the diet approach.
One of the biggest issues is that people can't distinguish between marketing messages and the truth. We have been told a million times that we can lose weight within seven to ten days. Plus, we are increasingly living in a world where we get everything at the push of a button. On thop ot that – to be totally fair – it's a known fact that the current cell phone and WiFi technology shortens people's attention span dramatically what leads to even worse impatience.
But where in all that is our common sense?
Well, maybe it's just time to look at different weight loss methods to check which one is THE fastest.
Dieting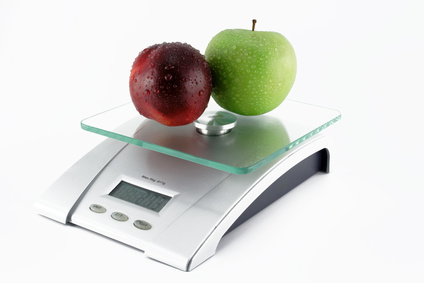 Since I have talked about the diet approach many times, I want to make this short. Dieting is against the body's own nature and therefore can't work long term. Going on a diet can give you some short term results but the weight will come back after a while. Depending on how many diets you have been trying or will choose to try, the constant up and down usually goes on for years and the person will eventually come to a point where she will resignate and give up all weight loss attempts.
So, although at the beginning you sometimes can lose weight quite quickly, what do you win at the end with yo-yo dieting?
Nothing!
By losing and gaining and losing and gaining you are not only jeopardizing your health, waste your precisouls life and make it more and more impossible for your body to lose extra fat.
Honestly, what is fast about that?
Exercise
Exercise alone has never been a fast tactic. Although exercise should always be part of a sensible weight loss strategy, it's far from being fast nor maintainable. You can jog for an hour every day and 365 days and you may not even lose a pound. Believe me, I did it and that was the results. Zero weight loss.
And if you lose some weight and then stop exercising when you'll get sick or older, you will gain the weight back.
Diet Pills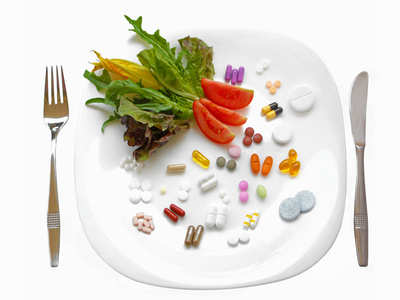 Like with any diet, at the beginning you may lose a lot of weight very quickly. But after a while you will gain it back because you didn't take your body's nature into consideration. You can't fool your body.
Your body does not only know what you know. It also knows what you don't know. Your body knows exactly what it needs to do to lose extra fat. But as long as you are interfering with diets and calorie reduction, you are forcing your body to go its own way, and it will do that because your body's first job is to safe your life.
Therefore you can really say that your body has more common sense than you have….should you ever choose to take diet pills.
Since you will gain the lost weight back and even more, you can't consider this to be a FAST method.
Gastric Surgery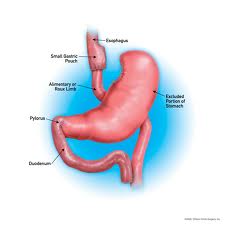 In my humble opinion this is the most stupid way of losing weight, and any doctor who offers that kind of surgeries should be put in jail for a long time. Gastric surgery is slow murder.
No doubt, you can lose weight very quickly. But the price is very high. After such a surgery you will be sick for the rest of your life and there is very little you can eat. In other words, you are literally starving to death….slowly and surely. And not only that, after a few years you are going to gain that weight back.
So how is that FAST?
Liposuction
At first sight I would consider this to be the fastest method of losing weight.
But here too we have to take the body's nature into consideration. Your body's two main reasons for accumulating fat is acid and toxins. It creates fat when either of them increase to a level where it becomes dangerous for the body. In a loving attempt to safe your life, your body creates fat cells to store toxins and acid away in the safest possible way.
When you remove that fat, your body gets literally flooded with toxins and acid. And what would you do if you were your body? Create new fat. That's one part.
The second part is that liposuction destroys part of the lymphs. This will create a new problem you probably didn't have before. As soon as your lymphatic system doesn't work properly anymore, you get lymph edemas, swollen legs and arms. Yes, it's "just" water, but when you're overweight, do you really care whether you have to get rid of fat or water? When the lymphatic system doesn't work properly anymore, you will need compression stockings for the rest of your life. I'm not sure if you can call this a good solution.
Again, at the end of the day you can't call this really "fast".
Hypnoses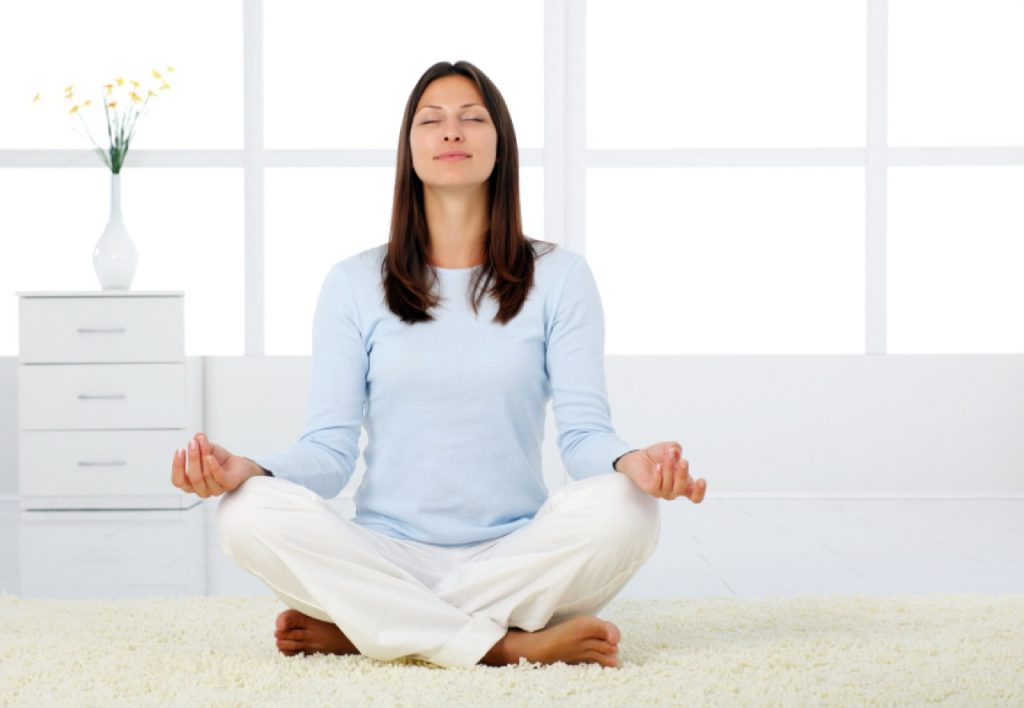 Hypnoses is a great method and I personally use several kinds of hypnoses in my coaching and therapy practice.
Hypnoses works partiularely well for compulsive eating and to suppress appetite.
The problem is that hypnoses alone is not a reliable problem solver as long as you don't know the real, underlaying issues. Hypnoses alone therefore is not a reliable method….it can take months and years. But if you can find a weight loss coach who combines several methods and who can help you find the real physical and psychological causes, this can be a great solution. Depending on how much time it takes to address the real causes, weight loss can happen quite fast.
*****************************************************************
https://cdm.weightlossexpertsrevealthetruth.com/lm-4-pillars-of-lasting-weight-loss603eyu39
*****************************************************************
Psychotherapy
As a behavioral therapist I do believe in psychology. And in almost 40 years of my personal weight loss story and by working with over 10,000 individuals I can say with absolute certainty that 80% of a maintainable weight loss process is about the psychology.
But…there is a big "BUT".
Psychotherapy is not fast. Traditional psychotherapy is about talking, talking, talking, and this can go on for years, even decades.
Yes, like I said, 80% is about the psychology. That should give you a realistic picture about a solid weight loss process. But there are also physical causes, emotional causes, even spiritual causes. A psychologist seldom understands all of them. I have met many psychologists who are even far from understanding all of the possible psychological issues that come with weight gain, especially if they never had to go through a weight loss process themselves. Those I know look at the issue soleley from the eating perspective too and why people overeat.
Although you may have a good chance for maintainable results, especially when the cause is the eating, it's far from being "fast".
Healthy Lifestyle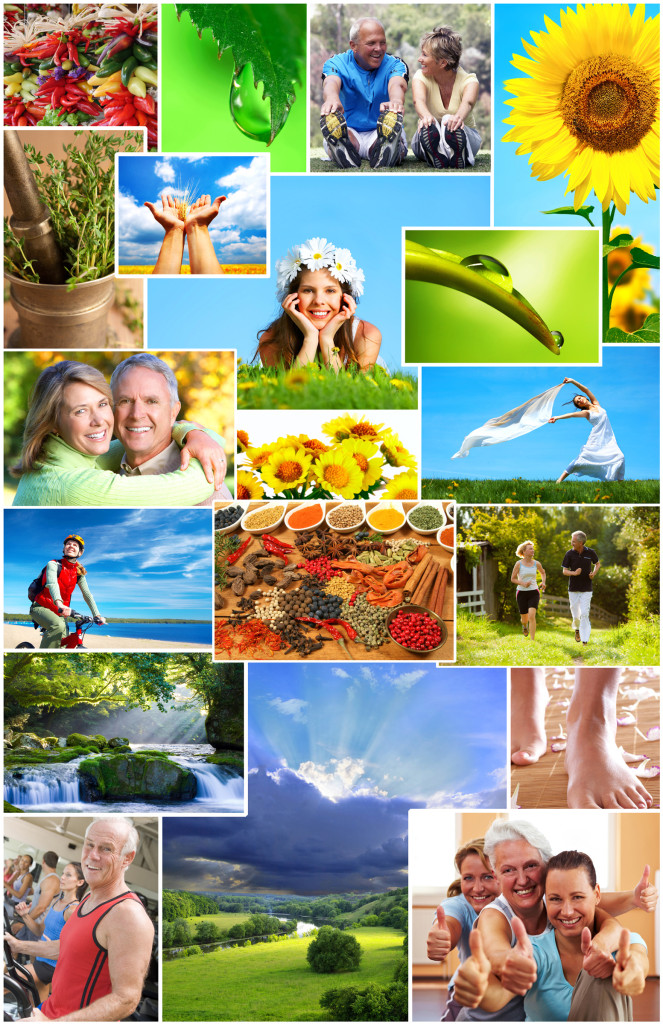 Although a healthy lifestyle ABSOLUTELY has to be part of a maintainable weight loss strategy, by itself it's not a fast method and very often not even a lasting solution. The healthy lifestyle approach looks at weight issues exclusively from the physical standpoint and that's never enough to make losing weight to last. Inner causes will not be transformed. 
Therefore, maintainable only if the issue is the lifestyle and nothing else. Fast? Never.
The old way of losing weight
This is how most women go about losing weight. They go on a diet. Then when they realize that it doesn't work, they quit. Some time later they try another method and fail again. They go from method to method and at the end they have to give up because they are desillusioned or have given up completely.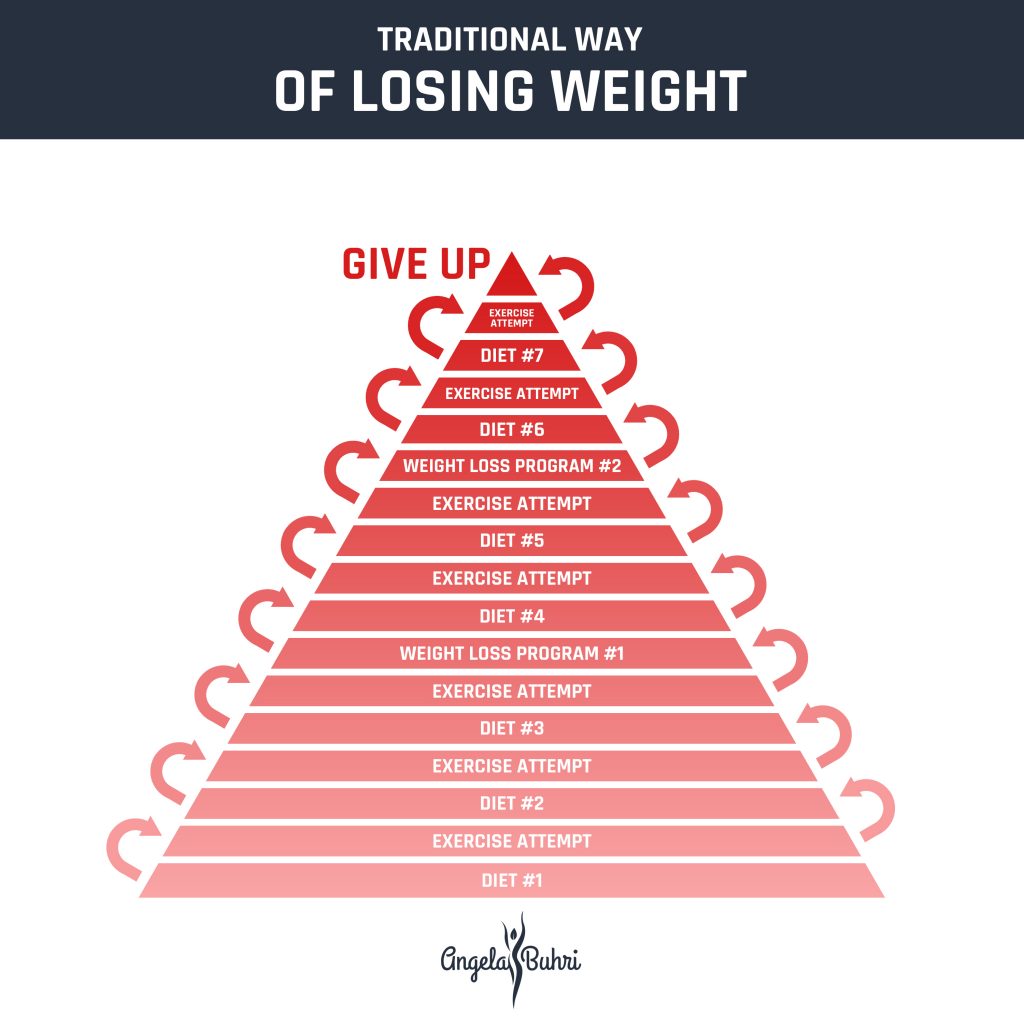 The New Way Of Losing Weight – 4 Pillars of Weight Loss 
You may have heard me say that so far I have found 58 possible causes of weight gain. These causes can be physical ones (eating, lack of movement, hormones, high acidity levels, etc.), emotional ones, it can be the mindset (and the mindset is most of the time a huge contributing factor), and the unconscious. Again, 80% of the problem is the psychology, the part of the iceberg that is beneath the surface. But most known weight loss methods work only with the 20% of the visible part of the iceberg.
Thanks to decades of my own weight struggles and thanks to working with over 10,000 individuals I have been so fortunate to gain a completely different understanding of maintainable weight loss. I have spent over a decade of searching for other individuals with the same knowledge, hoping that I could give them my clients and enjoy my retirement. But to this day I only found one man who got close to what I know, but he can't cover it all himself and works with a team of several experts. And he is still quite far from the truth, especially when it comes to female weight issues.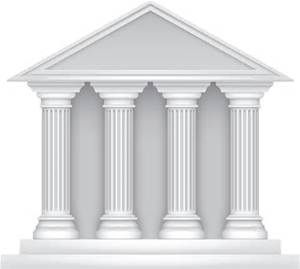 My 4 Pillar system takes the whole person, the whole being into consideration. We are body, mind AND spirit. We can't solve a problem just on the physical level by ignoring the other parts of our beings.
Generally, everything you do on the physical level can lead to fast weight loss. But then you also want to keep the weight off. So what you do on the mental, emotional and unconscious level is the kind of transformation work you need to make your weight loss last. It's an overall transformation process needed here.
So here at the Natural Weight Loss Academy we always work on all levels combined. The main focus is to find and address an individual's  cause or causes. That's why you can't just offer one solution and hope to fix them all. A sensible, maintainable weight loss process is always individualized. And since we work on all levels, we can exclude the yo-yoing most of the time, unless an individual cheats and is on a diet without telling me.
So minus the yo-yoing, and by securing that the weight loss will last, you can honestly say that this is THE fastest way of losing weight for women (for men it's easier any way, so we are only talking about women here). Depending on the weight a woman starts the process at and depending on her seriousness and commitment, it can take anything between three months and three years. The heavier a woman is, the longer it will take, of course.
Let me share two examples.
Example 1
One of my current clients – let's call her Jessica – joined my Facebook tribe four weeks ago. She jumped in both feet and took action on all the daily action steps right away. Not all the steps were easy for her – that's normal – but she always discussed things with me. She never said, "I can't." Instead, she always asked, "What can I do with this problem?"
During the first two weeks nothing happened. She just went through the process and trusted the process. In week 3 she suddenly lost 5 pounds and 6 inches. This was during Thanksgiving week and she ate anything she wanted, even dessert. The only thing she did was watching her psychology and enjoying the family gatherings.
Two of Jessica's most outstanding characteristics are her commitment to lose weight and be healthy, and her consistency in going through the process. She started at day 1 and never missed any of the daily action steps, no matter how small or silly they seemed to her.
Example 2
Another client of mine – Ruth – went through my SheSlimEasy program 5 years ago and lost weight nicely. I emphasized that she should make sure to stay on the path and later move forward on the SheSlimForever process to make her weight loss maintainable. Recently she joined my Facebook tribe and admitted that she could only keep her weight by dieting and regular cleansing. In other words, she completely ignored the psychological part, the 80% of the process. And not only that, she lost everything she had accomplished five years ago and now has to start all over again. 
Ruth has always been kind of reluctant, the opposite of Jessica. She was afraid of her emotions and of bursting into tears when working with me. That was proof to me that one of her major causes of weight issues is the way she is dealing with emotions. Unfortunately she didn't understand that every tear she cried while going through the transformation process with me means losing weight for her.
During a one-on-one session over the phone with me she began to realize that she can't block the process emotionally and still hope to achieve lasting weight loss. So she decided to trust the  process. As a result, within only one hour of coaching she could solve and transform several issues.
Working with the 4 Levels 
Just in case that you feel overwhelmed by the 58 possible causes, my system includes figuring out each client's effective causes very quickly. 
Of course, if you are trying to do it by yourself, it may take years. Please keep in mind, that we all have our black spots. No psychologist can do it by herself/himself. It would literally take centuries. But maybe you are the exception.
Or you can work through your psychological issues with your psychologist. I'm sure you will make some great progress, but the question is how long it will take. 
If you are at the point where you realize the benefits of my 4 pillars of lasting weight loss, you have two options:
1.) Workshops or group coachings
2.) One-on-one coaching sessions
Both possibilities are very valuable. The group setting is very interesting because you see the struggles of other women and you also get a lot of encouragement from the other members. The downside is that it may take longer because I have to work with several individuals at the same time.
If you need to lose weight fast and if you have the means, then the one-on-one coaching setting is certainly the best choice. 
Of course, a big contributing factor to your weight loss progress and success is your willingness to open up and be willing to work through the processes. If you bring that to the table, we can transform each of your effective causes within one to five sessions, depending on the intensity of the issue. 
These are the steps of my 4 pillars of lasting weight loss:
Step 1: Habit Transformation (SheSlimEasy)
Step 2: Detox & Cleansing (SheSlimFast)
Step 3: Weight Loss Mindset (SheSlimSmart)
Step 4: Transformation of the Inner Causes (SheSlimForever)
Maybe, by now you are getting a pretty clear understanding of the effectiveness of my 4 Pillar process. 
Conclusion
Changing your diet may bring you a step ahead.
Following a fitness program may bring you a step ahead. 
Thinking positive may bring you two steps ahead. 
Going through the 4 Levels and eliminating the real causes is entirely different ball game. It's a transformation process. It does not only get two or three steps ahead….it brings you right to the top of your goal. And not only that, at the same time it can improve your relationships, it can reduce your stress levels, it can improve your professional life, and it definitely will  improve your health and longevity. 
Finding the REAL causes of weight gain and eliminating or transforming them makes the body fat obsolete. As soon as we understand our body's message and solve the problem, the body has no longer a need to hold on to the extra fat and can burn it almost instantly.
Since I don't work with diets, there is hardly any bouncing unless it's about the normal hormonal cycle. Therefore, we can honestly say that working on all four levels of the human being is THE fastest weight loss method because it is maintainable.
At the beginning it may take a while for the body to realize what's going on. But once the process gains some momentum, weight loss can be fast and effortless. Very often, my clients don't even realize that they have lost weight because they are feeling good despite of the weight and stopped weighing.
Now I have to leave it up to you to make a decision for yourself. Do you want your weight loss to be hard or smart? Do you want to keep yo-yo dieting or do you want to put an end to it? Do you want to go from diet to diet or do you choose a more effortless way?
The choise is yours and yours alone.
**********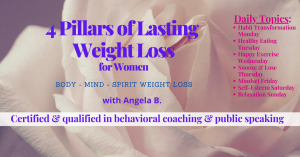 Is your health and weight loss goal worth five to fifteen minutes of your time every day?
If you want to learn a process that leads you to constant weight loss success by baby stepping, check out my Facebook group. 
You can get a feeling for the 4 Pillars of Weight Loss process for free. Simply join my closed Facebook group where you can go through the process by taking tiny daily baby steps completely stress free and still make tremendous progress. 
https://www.facebook.com/groups/4pillarsoflastingweightloss