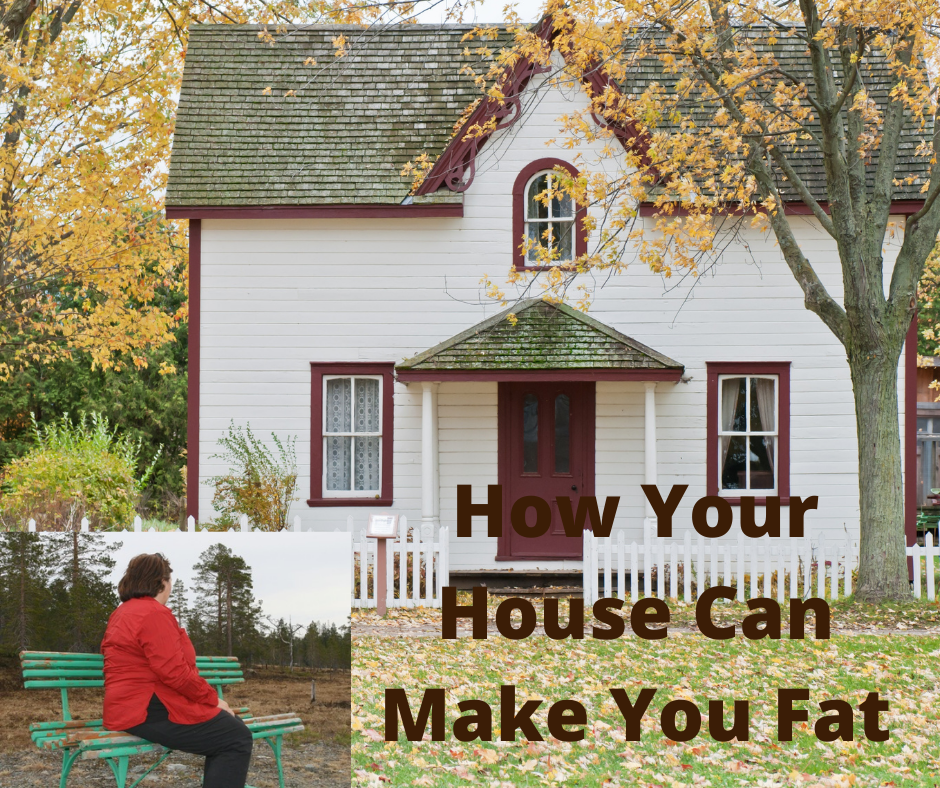 By now you have learned about several contributing factors and root causes of weight gain and the inability to lose extra fat.
But have you ever heard that your clutter could add to your weight, too?
When I heard that for the first time from my friend and interview partner Linda J.Binns I was not surprised at all. Because stuck energy is stuck energy is stuck energy….
It just began to make so much sense to me.
Did you ever hear the expression "As within so without?" Actually, it's not an expression but nothing less but one of the seven Universal Laws, just like the Law of Attention is one of them and true for everything and everyone. Whether you like it or not, these Universal Laws just work with or without you believing in them and with or without your active contribution. Your outer body is just a reflection of what's going on inside of you, and likewise your home is as well a reflection of your inner world.
When I asked Linda if it could really be that easy to get rid of clutter and lose weight she answered: "Well, it can certainly my be a contributing or helping factor. Now you know what I want to avoid is people thinking that they can go out and get rid of everything and automatically lose weight. What I hope to show through this interview is the connection between the stuff that we accumulate and any weight that we accumulate and help you understand that and to understand what's going on, what's the connection there and how from that perspective when you let go of the clutter, it can actually have a positive impact on your weight as well."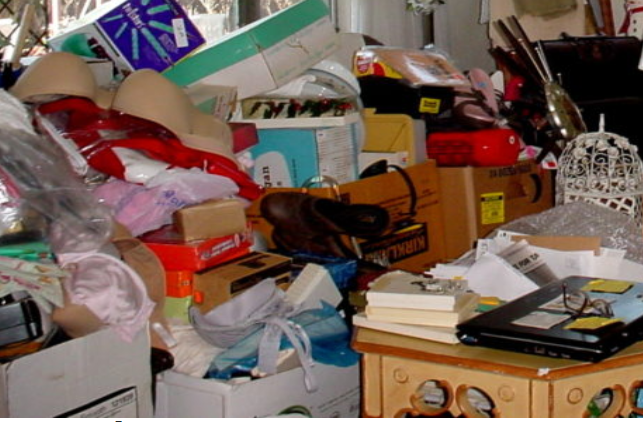 To that I want to add that it's all about energy and your inner energy. If you just want to proof us wrong and declutter your house without going through the inner process of letting go, not much will happen. You will feel relieved and lighter, but that doesn't necessarily means that your fat is now going to burn off like crazy. However, it can. It all depends on what is going on within you. You not only have to ready to let go of clutter but also be ready and willing to let go of everything that lead to weight gain and that is keeping you overweight.
The thing is that the more clutter one has, the more it attracts and that by sorting out one's stuff literally sorts out one's life.
"When we attract something, when we are attracting the clutter into our lives, clutter is a symptom of something that is going with us. When you think of energy flow, what clutter does is it stops energy flowing and it creates stuck energy around us. So, when we accumulate clutter, it's a symptom that something is not in alignment within us and so we accumulate stuff as a symptom of something being out of balance inside of us and that can be. You may not be experiencing it yet as health issues but then you may as well. And then the more stuff you have, the more it adds to itself. And when you sort out that stuff, as you sort out that stuff it starts to help you come more into balance energetically and physically. So you know it starts out as a symptom as you start to address it and you sort out the stuff, it could help you to find the solution for whatever is going on with you on a physical level."
******************************************************************
Learn some simple steps to lose your extra weight for good!
8 Weight Loss Experts Reveal The Truth.
******************************************************************
Dealing with the clutter & letting some things go, can really bring major changes in one's life. When I asked Linda what of change we might experience by decluttering, she answered, "You can really expect any kind of change. I mean it really depends on the person and what's going on in their life. But as I said, collecting clutter, accumulating stuff is a symptom of something that is not right in your life or something that is not right with you. So, as you start to eliminate the clutter and you start to deal with that, anything can change. And I had people experience all kinds of different changes from suddenly finding the answer to a problem they have been experiencing for many years, or the right person suddenly showing up to help them, or business owners when they let go off stuff attracting new clients seemingly out of the blue. You know what it does is … as you let go off the stuff, it opens up the space for things to change, for the things that you do really need to come into your life. And so really anything can happen depending on what's going on with the person at the time."
"As you let go off the stuff, it opens up the space for things to change, for the things that you do really need to come into your life."
Of course, this is very individual. What happens to one person as a result of her letting go process may not happen to anybody else. You can't tell in advance what is going to change for you. That's the beauty of inner processes in general: they are entirely individual and so are the results. And although I'm repeating myself – I have to so that you really understand that from the depth of your heart – this can nor will it ever happen with a diet or exercise program. Healthy eating and exercise always have to be part of a sensible weight loss strategy, but they don't solve the root causes. And that's really the most important part about my work – I never know in advance how things are going to work out for any particular client. Still after 38 years of doing this work I often get surprised about the results.
To that Linda adds, "It is really very individual. And yes, it's different for everybody … all I can tell you is that, if you address this, if you deal with the clutter, things can and will change for you for the better." And the best about this is, that things will change in the best possible way for you, what is the best for you.
Linda is a Feng Shui expert and was often called to look at people's houses. So I asked her how common clutter is among overweight people and if she can see a common pattern.
"Yes! It's very common. Even if it's not the whole house, there is usually some area, at least one area. Very often it will be the closet. I remember walking with one couple – they didn't have weight issues but they had health issues – their house was immaculate, but what they had was a basement and an attic absolutely full to the brim of stuff. Boxes and boxes of stuff, there was no energy movement at all. So, they were living in a kind of sandwich between this stuck energy. So, it may not be everywhere in your house, but it will be somewhere, and if you have any issue with weight, I can almost guarantee you have issues with clutter somewhere in your home."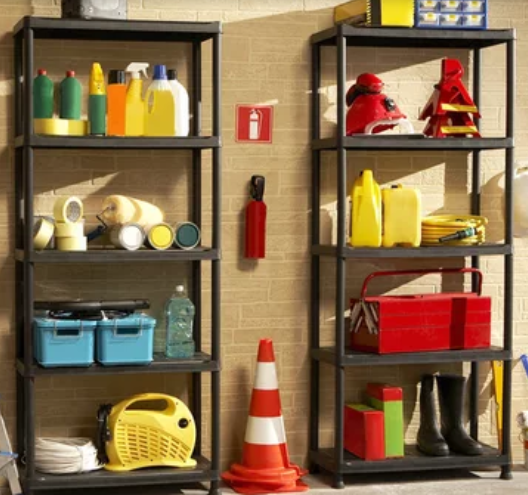 Holly wow! When I heard that I was never more motivated to go through all my stuff and get rid of some clutter.
The interesting thing is that enhancements through Feng Shui can never be fully effective as long as there is clutter and thus the flow of energy is still blocked. So many women who struggle with weight constantly feel kind of stuck in their lives, or even imprisoned. So I asked Linda if the simple act of decluttering could positively affect the energy flow in our bodies; especially weight related energy that may be trapped.
"Yes! Just simply decluttering absolutely affects the energy flow in your body . And you know weight is stuck energy. It means that … it's not simply a question of diet and exercise for everybody. I know of many women who are overweight because of not eating enough, for example. But the weight issue goes so much deeper than just diet and exercise; and what you have to understand is that your environment is simply a reflection of what is going on with you. It's a reflection of everything that's going on in your life and again, the clutter is simply a symptom, it's a sign of what is going on within you. So, when you deal with that clutter and you start to release and open up the energy, it has a very positive effect on your own personal energy because you are directly connected to your home. It's a reflection of you. So, as you start to clear out that clutter, it starts to clear out your own energy."
I am sure that ninety percent of my readers now thank Linda for that statement that being overweight is very often not a matter of eating, and it's true.
So do you feel that you want to declutter a particular closet or a drawer?
Go do it! You will feel lighter after. Besides, your motivation may not get any higher to declutter than it is right now. So use that positive energy.
If you want to get full access to the interview I did with Feng Shui Expert Linda Binns, please join my free webinar at https://cdm.weightlossexpertsrevealthetruth.com/webinar-truth-weightloss-registration.
Happy slimming!
**********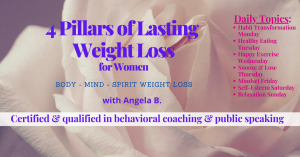 Is your health and weight loss goal worth five to fifteen minutes of your time every day?
If you want to learn a process that leads you to constant weight loss success by baby stepping, check out my Facebook group.
You can get a feeling for the 4 Pillars of Weight Loss process for free. Simply join my closed Facebook group where you can go through the process by taking tiny daily baby steps completely stress free and still make tremendous progress.