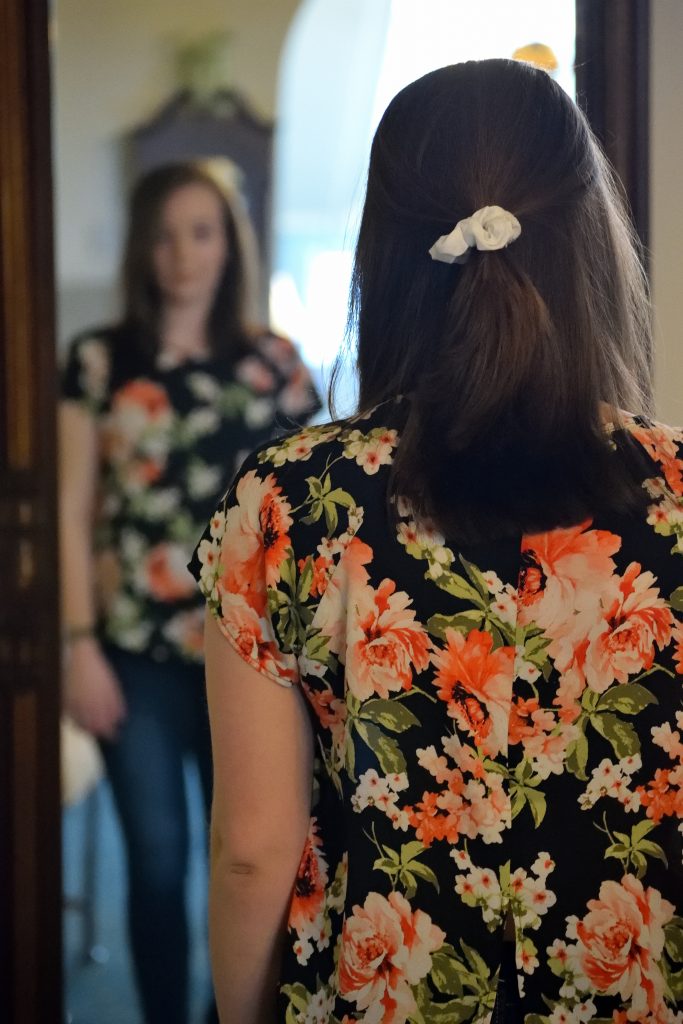 I can't count how many examples of negative self-talk I have heard from women in my 38 years of being a weight loss coach. Many of the things women tell themselves made me even cry. And these were all wonderful, lovely and loveable women. Yet they all found the worst names for themselves….worse names than they would ever call a dog, let alone somebody else.
A lack of self-love in overweight women is almost omni-present. It seems that overweight women very often also have a problem to love themselves because they did not experience to be loved much during their childhood or in a marriage. They just don't think they're loveable, no matter how wonderful and lovely they are. And the worst thing is that they are so convinced that nobody can love them, that even when an entire class of 20 other workshop participants are doing everything to convince them how wonderful and beautiful they are, they find it hard to believe it. Their response often is, "You're only saying this to be nice with me."
But fact is that the more we love ourselves the more it's natural that we take care of what we put into our mouth, what we eat, and what we do to our body. For many overweight women this is probably a far-reaching goal because they are not there yet.
For example, one of my interview guests, Oprah-featured author Laura Fenamore, used to call herself "big, fat, ugly drunk." Despite being obese and an alcoholic, she had to learn to love herself first to heal both, her weight and her addiction.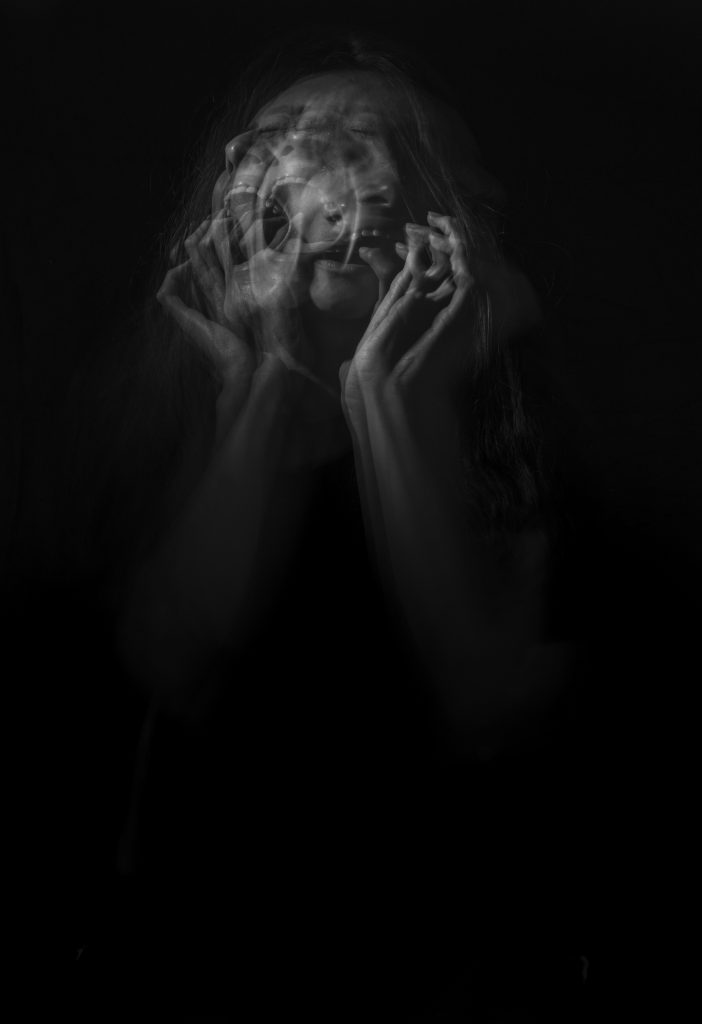 These negative self-talks are so common among overweight women, yet they are far from being helpful. That way we can't build a good relationship with our body and promote lasting weight loss. In order to lose extra weight for good, you need to be in a good relationship with your body to get its full collaboration. How would you like if somebody called you the worst names and then expected you to help them do something for them? Your healthy reaction would be to respond, "Since you can't be friendly to me, why would I waste any time and energy helping you?"  
How did Laura manage to go from being insanely obese and an alcoholic to being slim, sober, and successful? "Well the first thing that I had to do was really wake up to what I was doing. Because so many people are on auto-pilot that they aren't even aware of their negative self-talk; they are just not aware that they can't stop eating or that they are obsessed about food. Maybe they feel dissected like 'there is something wrong with me.' But often times people don't walk around saying, Oh! I call myself an ugly person every day. They just do it. But what happens is, when they get somebody like you coming in their life, and you're here to help people see another way, they all of a sudden start to notice, 'oh my goodness, maybe I am not talking to myself so nicely.' And they start to notice and from the place of noticing, then they can make a shift. I mean it's really the first step. The first step is to really notice what's happening, and when I notice that, 'Oh my goodness, how I've talked to myself is just horrible.' And people say this all the time. 'I wouldn't talk to a stranger or a dog the way that I talk to myself. I was really, really mean to myself.' And that is not going to change until we become conscious of it."
And then, once you become conscious of it, it's just a process, the same way that all of the inner work is. It's a process that is needed…not a pill. Although "…we want instant gratification, but instant gratification doesn't come. It's really a process to undo those thoughts and feelings and behaviors that we've been living with. It just takes one little step at the time…to undo that negative self-talk and to begin to start talking to ourselves with kindness, compassion and love. And even if we find that we're hanging out with people that are just really talking nasty to us, or they are being just as abusive…a lot of things may need to shift in order for you to move forward," Laura continued.
*****************************************************************
https://cdm.weightlossexpertsrevealthetruth.com/lm-4-pillars-of-lasting-weight-loss603eyu39
*****************************************************************
Of course, "…that's not easy for everybody to hear, but I am saying that I've had people walk away from jobs and marriages and all kinds of situations where they really were not there for the right reasons; because they were there because they felt like they had to be there not because they wanted to be there.  And it was actually holding them back from their truth and what they wanted and valued."
The problem is that when you're being treated badly by other people – family, a spouse or friends – then it's much easier to think negatively about yourself. And after a while you begin to believe that they are right…you literally buy into that lie. And the longer you live with such a lie, the more you begin to believe it and the harder you will find it to stop those self-abusive talks, because "…one thing feeds into the other." It gets you on a proverbial downward spiral.
The really dangerous thing about all that negative self-talk is that it gets on auto-pilot. After a while you don't even realize what you're thinking about yourself. And even worse, what you think and how you feel about yourself, create a new reality and makes matters worse. The longer such a pattern lasts, the harder it will be to lose extra weight for good.
If this is you, then I'm urging you to get away from such negative self-talk. Don't allow yourself or anybody else to talk badly about you. You are a wonderful being and loveable. The first step is really to become aware of your negative self-talk. Then stop it!
Stop it!
Just stop it!
The next step then is to be grateful to your body, to what it's doing for you every second of the day, for years and decades without ever getting a 'Thank you' from you. It just does its job as long as it can, even though you often reject your own body. Just know that your body is an intelligent being and it knows exactly what you are doing. Don't you ever believe that your body can't be hurt by what you think or say about it.
After the gratitude comes love. Start with something you like about your body. Maybe you have beautiful eyes, great hair or nicely shaped legs. There is something beautiful in every woman.  
Maintainable weight loss begins with loving yourself. I know you may think, 'I will love myself once I'll be slim.' Unfortunately it doesn't work that way. You have condemned and abused your body so often and for so long, that you first have to stop that and give your body proof that it has a reason to cooperate with you and burn off that extra fat.
To that Laura says, "Well that's another one of those components. It's like life is happening now, it's not a dress-rehearsal, and why would we want to start liking and loving ourselves once the weight is off? I mean, I understand intellectually why people go there. Because they think in their minds, 'I am not going to love myself until after I get thin or after I stop eating so much.' But the truth is that you are who you are now, not later. Now. So the love has to be and the self-acceptance has to begin now. And from that place you will stop the war."
Having more self-love means coming from a compassionate place. The negative self-talk may not go away right away. "Again it's a process, not a pill. It takes a little bit of time, and it's that place at self-acceptance. Like 'I appreciate myself now."
Laura, "It was really another one of those turning points for me. I had to get that, oh my goodness, I have to accept myself as I am in order for me to release this weight and keep it off.  And I really think that that was part of the magic, that I was in a place of self-acceptance and self-love, as I worked myself down the scale. Did I want to be 200 pounds or 220 pounds?  No. absolutely not, and when I say to people 'you have to accept yourself as you are,' they are  kinda  like, 'but I don't want to look like this, I don't want to be this way.'  I know.  But if you walk around everyday saying, I hate my body, I hate the way I look, I want to lose weight, I hate to diet," it's not going to happen.
What if you're just going to understand and feel that you can change slowly but surely? Then, while you're changing, you begin to appreciate your body for what it does and you're going to do the emotional and mental work that will lead you to feeling good about yourself on all levels. Would that be helpful? How fast do you think things would change for you?
Just try!
Just start somewhere!
It's a choice. 
I understand that such a process is not easy when you have to go through it alone. For that purpose I have created a closed Facebook group where you can be among like-minded women who have all the same or similar issues like you have. You don't have to go through this alone. Both, Laura and I had to get help. It would be too big of an ordeal to do it all alone. So let us be in your boat so that we can assist you to lose your extra weight faster. 
Happy slimming!
P.S. If you want to hear my interview with Laura in full lenght, you can go to https://cdm.weightlossexpertsrevealthetruth.com/oto1-weight-loss-experts-reveal-the-truth-membershiptjnoj5ns and try my Weight Loss Answers membership program for free. 
**********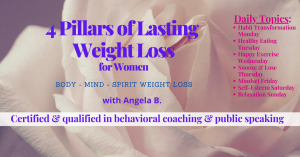 Is your health and weight loss goal worth five to fifteen minutes of your time every day?
If you want to learn a process that leads you to constant weight loss success by baby stepping, check out my Facebook group. 
You can get a feeling for the 4 Pillars of Weight Loss process for free. Simply join my closed Facebook group where you can go through the process by taking tiny daily baby steps completely stress free and still make tremendous progress.