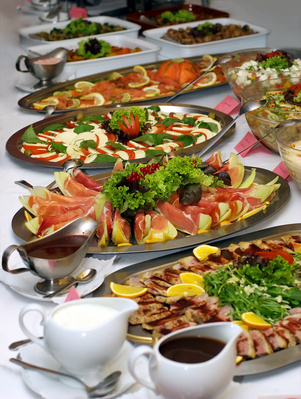 "This is just an understanding of correct nutritional biochemical facts most doctors do not understand." –Dr. James Carlson
Have you ever wondered if what your doctor and dietitians are teaching you might be wrong? Did their recommendations ever help you lose weight and get your cholesterol down without medication?
One of the most amazing and relieving interviews I did was with obesity specialist Dr. James Carlson. And I can literally hear a gigantic sigh of relief coming from my readers.
This is what he said at the very beginning of our interview.
"This is just an understanding of correct nutritional biochemical facts, which I did not always understand. We go back in time about 16 or 17 years ago, I was actually obese; I had high blood pressure; my blood sugar was elevated meaning I was a diabetic; I had very low HDL which is the good cholesterol. I had many things wrong with me. I, at that time did not understand the correct way to eat. Let me also add that at that time I was also a board certified family physician. So you would think I knew what to do to change my life around but I did not!"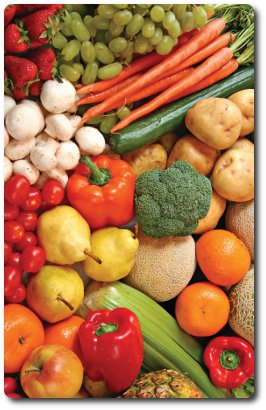 "I followed the low fat, low cholesterol hypothesis and I got rid of all the bad cholesterol in my diet. You wouldn't know it that my body got heavier and my blood pressure went higher, my blood sugar higher HDL/good cholesterol went lower. Basically I made all my conditions worse by following the accepted dietary guidelines, which are still the accepted dietary guidelines. It's interesting too because when I failed the low fat, low cholesterol diet I put myself on medication and I wasn't understanding at that time the correct way to eat. So I put myself on the blood pressure medication, I put myself on the cholesterol lowering medication and I actually put myself on the medications until I started to understand the correct way to eat. That understanding was a big 'eEureka!' moment in my life when I understood that low fat, low cholesterol eating styles are actually harmful and deadly. I switched away what I was eating, I started eating more fat cholesterol, and wouldn't you know it, I blew up 70+ pounds, came off my mediactions and the rest is history. Armed with that knowledge, I started bringing that into my practice; telling my patients the correct way to eat. Now, 16 years from that I literally have thousands upon thousands of patients eating the correct way with wonderful, miraculous and marvelous results."
Gosh, isn't that refreshing? So many of us have already wondered or even questioned these practices, others are already fully aware of these facts. My first thought was, "Sometimes it would be really helpful if doctors had to go through what we are going through and suffer from the same ailments their patients do so that they have a better motivation to dig for the truth."
Dr. Carlson continued, "Before I knew the correct way to eat, I have been telling thousands of people the incorrect way to eat! It's interesting that how we physicians are trying to do it in America. We are told low fat and low cholesterol, of course influenced heavily by the pharmaceutical companies; and then we are told that if the diet we told you didn't work, we have medications we could give you. That's the wrong way to think. I'm somewhat embarrassed to say that those thousands of patients I have told to follow low fat and low cholesterol, really not a single one of them did okay with that where they didn't need medications. Most of them needed medications. And I didn't step back and said to myself 'Wait a minute! I'm putting all these people on low fat low cholesterol diet and almost every single one of them needs medications.' I didn't step back and say to myself, 'Maybe I'm telling them the wrong way to eat. Maybe it's not the correct way to eat.' My focus and mindset was more of the physician mentality where we are trained to do certain things and not think about it."
*****************************************************************
https://cdm.weightlossexpertsrevealthetruth.com/lm-4-pillars-of-lasting-weight-loss603eyu39
*****************************************************************
"I want your listeners to understand that medical schools, at least in America, do not train how to think. You are trained how to think and what to think and do not really be a free thinker. You go to medical school, you take the classes, you are told this is what we know; this is what we do, this is what you do, etc. So there is really not a lot of free thought involved which is why in America we have obesity, type 2 diabetes, heart diseases and cancers have ravaged the world."
You may have realized by now that Dr. Carlson is a very entertaining speaker while revealing so much truth within just a few sentences. One of the funniest parts in his book is when he talks about his medical school and that they only had two weeks of nutritional instructions taught by an overweight dietitian. It's funny to picture that, but, of course, for us the patients it's really not that funny and the consequences are severe. This is a perfect example of an ignorant medical system and that there is something really wrong with that system. Thank goodness there are such brave physicians like Dr. Carlson who dare to speak the truth.
Because of that situation we have to be aware of that the vast majority of physicians around the world are truly ignorant as to the correct way to eat. And it gets even worse when that ignorance turns into arrogance when you speak to a physician. They don't even want to hear the truth.
There is a saying, "The one who heals is right." And, being a real scientist, Dr. Carlson can proof his findings.
"I had people with triglycerides of 700-800, the highest I had was 2400, go to normal without medications following the correct way to eat…eating fat and saturated fat and cholesterol containing fat foods is actually healthy, not harmful."
Dr. Carlson clearly stated that the low fat/low cholesterol as a way to eat is just plain wrong. When I asked him why, he said, "Let's look at what's happening because the scary thing is that this is so simple to understand and we have this printed on every single biochemistry text book you can get your hands on. The reason it's wrong is because it says: 'Eating fat cholesterol is dangerous' and they want you to eat whole grains and fruits and they say these things are good for you and everyone thinks that's correct. Well let's backup a little and let's look at what creates the cholesterol molecule and the fat molecule and the fat cholesterol molecule. It starts with the sugar molecule both glucose and fructose. So when you provide yourselves with glucose and fructose they will make cholesterol and fat if they receive over abundant sugar molecules. So the more food you eat that contains carbohydrates, that contain glucose, that contain fructose, the more you are giving those cells the ability to create cholesterol and fats. That is a biochemical fact."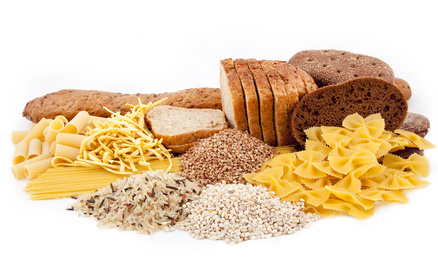 "Wherever that sugar molecule comes from, the cells are going to create deadly cholesterol and fat making us heavier and create a host of a lot other deadly problems. So I like to tell my patients, and I like them to repeat this little mantra, I say repeat after me 'Carbohydrates are broken down into sugars and sugars create cholesterol and fat.' And I also say that 'carbohydrates are carbohydrates are carbohydrates' meaning, it doesn't matter if it comes from whole grains or multi grains or seven grains or whole wheat pasta or brown rice. The end result is overabundant sugar molecules and you are going to make cholesterol and fat from that."
"So the question in why is the 'My Plate campaign' incorrect? Because it is based on the incorrect premise that low fat/low cholesterol is the correct way to eat and that we need to eat whole grains and multi grains. All that's doing is providing the cells of our body with what it needs to make more damaging molecules i.e. cholesterol and fat."
Wow! The amount of information I received from Dr. Jim literally within minutes was overwhelming. My head was literally humming. On one side I was so happy to finally hear the truth, on the other side I had that nagging feeling that this all is just the beginning. And according to Dr. Jim it is.
For now I want to let that information sit with you and digest that information.
If you want to hear the entire interview, please feel free to go to This Page directly or to listen to my webinar first for more information. 
In the meantime…
Happy slimming!
**********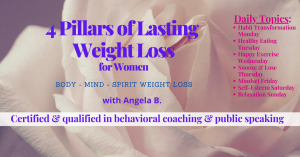 Is your health and weight loss goal worth five to fifteen minutes of your time every day?
If you want to learn a process that leads you to constant weight loss success by baby stepping, check out my Facebook group. 
You can get a feeling for the 4 Pillars of Weight Loss process for free. Simply join my closed Facebook group where you can go through the process by taking tiny daily baby steps completely stress free and still make tremendous progress.